Alumni Update: Becca Berger works for San Antonio Spurs
Eliana Schuster
April 13, 2015
Hyman Brand Hebrew Academy (HBHA) class of 2010 alumna, Becca Berger, graduated from the University of Kansas (KU) last spring with a degree in journalism that emphasizes strategic communications. An experienced intern in jobs related to social media and marketing, Berger began her job as a marketing intern for the San Antonio Spurs in September 2014.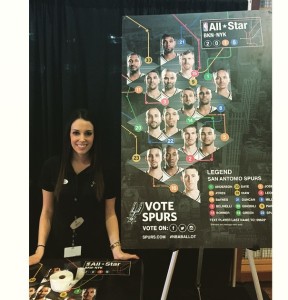 Throughout college, Berger worked as an intern for three organizations; first she worked as a social media intern for a non-profit organization called Young Women on the Move, then in Australia for she worked as a sports merchandising company, and finally Berger served as a KU Athletics Marketing Intern. Berger emphasized how valuable internship opportunities can be, and how the life skills she gained from them have been incredibly useful. She added, "I can't stress enough how important internships are."
Berger's marketing internship with KU Athletics helped her find her position in the marketing department for the Spurs. "I do anything from advertising to ticket tracking for the success of each game…The other major aspect of my position is grassroots marketing: going out to events in the community, promoting our brand, and making sure we have a positive brand image in the community," Berger told of her position.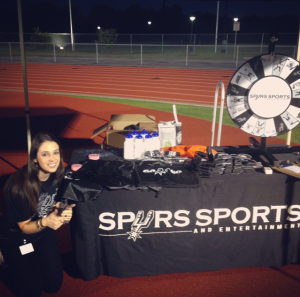 "I love working for an NBA team. I am working on many different projects for the Spurs, and the [NBA] league itself," says Berger.
"I wouldn't be where I am today without all of the opportunities I [got while I was at] HBHA," Berger noted. "The one-on-one time I had with teachers [at HBHA] helped me [to] be brave enough to ask questions and ask for help in college. The connections you make at HBHA are so important and really help shape who you are as a person."