"Imagine a first grade teacher with a firearm. [The role of] a first grade teacher is to mentor, love, and provide a positive learning environment for students…and you can't do that while you have a gun strapped to your hip," says Science Department Chair at the Hyman Brand Hebrew Academy (HBHA), Cody Welton.
Welton has owned guns his whole life. He was raised to view guns as a tool for around the farm, not to kill people. The recent movement to arm teachers with weapons as a way to prevent school shootings has him shocked.
President Donald Trump and United States Legislatures around the country have been changing their gun laws. In some states, carrying a concealed weapon is legal for both students and teachers.  The National Rifle Association (NRA), a powerful group that is devoted to the idea that the Second Amendment  guarantees citizens the right to bear arms, is a supporter of Trump's idea. The thought behind this is that the good guy with the gun will hurt, kill, or delay the bad guy with the gun before he can commit a mass shooting.
One issue with this idea is the money. "Arming teachers is really impractical," says Welton. "Guns are expensive, teachers are not well paid to begin with, and schools are not well funded." AR-15's can cost anywhere from $600-$2,500, not to mention the fact that you need to pay for bullets and maintenance. This would be a big expense, and people have more critical uses for their money than bringing a weapon to school.
Welton also emphasizes the fact that arming teachers is unrealistic due to the fact that they must also be trained. Even for well trained police officers who are taught to respond to crisis situations, making a split second decision is difficult.
The training piece is imperative, as according to the Gun Violence Archive, 465 unintentional shootings have occurred as of April 12, 2018. That number is rising every day and there is no reason to think a teacher's gun would not unintentionally go off, harming themselves or perhaps their students.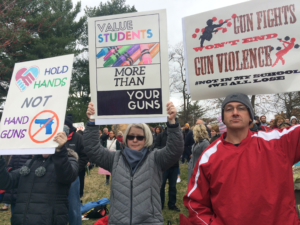 Michal Cohen, HBHA Hebrew teacher, says: "Every year there are cases of people shooting unintentionally and people and kids get killed for nothing." Cohen adds that if people were carrying weapons around her school, it would make her feel unsafe. As a teacher, she believes that burdening staff with weapons would only bring anxiety and stress to their daily routines.
One of the main reasons mass shootings keep happening is the fact age restrictions on everything, from handguns to semi-automatic AR-15's, are lax. By the time you are 18, you can buy all types of long guns (which includes rifles and shotguns), whether that is from a licensed dealer, or an unlicensed seller. By age 21 you can buy a handgun from a licensed dealer.
In the end, the average high school senior can have access to any gun before they graduate. "The only way to find a solution to this problem is by making it harder to access automated weapons, legally, and illegally," says eighth grader Tyler Johnson.
Critics of Trump's idea agree with Johnson, and some possible solutions to this issue include: higher age restrictions to purchase guns, more in-depth background checks for people wanting to buy a gun, and not allowing guns to be sold to people who could potentially do harm with them.
For teachers and students alike, the idea of carrying firearms in a school setting invokes a sense of fear. A gun is a dangerous weapon, and the thought of a fellow teacher or student carrying one is frightening. "I can't honestly think of any of my co-workers or myself who I would be comfortable with being armed," Welton says.
As a student, Johnson is terrified by the idea of one of his teachers carrying a weapon: "I wouldn't feel any safer if [my] teachers had guns…accidents can happen with misfirings."
People around the country are rallying around students and teachers protesting gun violence and the idea of concealed weapons in schools. River Hennick, a sophomore at HBHA, has been deeply involved in these protests and feels that "this time we have an ability to make change in the world."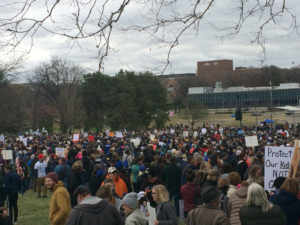 Hennick reiterates what thousands of people have been saying throughout these protests: "The belief that arming teachers with guns will solve this complex problem is absurd. This is not some Hollywood movie or opportunity for heroic pursuits. We are trying to protect student's lives and it scares me to think that anyone would even consider this a possible solution."
All of the protests and marches against gun violence are uniting the nations' students, parents, and teachers, all of whom are speaking with the same voice: These gun violence issues in America require immediate attention, but arming teachers with weapons is definitely not the way to do it.  There is proof that teachers bringing weapons to schools is only a way to increase the gun violence in our country. The idea that our schools and students would be safer if their teachers were armed is ignorant, as that is impractical and would only lead to more shootings. People everywhere are uniting to get across one important message: Fear and violence have no places in our schools, and by an extension, neither do weapons.