HBHA Students Embark on Social Justice Project
Lauren Hassan
March 3, 2014
Photo by Lauren Hassan. 
    When Hyman Brand Hebrew Academy high schoolers left for their tour of Kansas City, they were unsure what was in store for them. Students crammed onto a bus with teachers, upper school principal Todd Clauer. Molly Fleming-Pierre, who works with Communities Creating Opportunities (CCO) served as a tour guide with Clauer.
The tour prepared HBHA's upper school students for their upcoming social justice project in collaboration with Communities Creating Opportunities (CCO), a Kansas City faith-based community organization.
The first stop on the tour was Case Park which overlooks one spot where the famous Louis and Clark went up the river. There students learned about the history of Kansas and its corruption including the Pendergast brothers.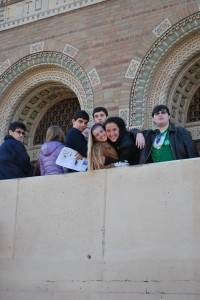 HBHA students outside of the old Beth Shalom building. 
The high schoolers also stopped by the old Beth Shalom building, which is now ironically being used as a church. Sophomore Elana Goldenberg remembered enjoying her visit there. "Since I belong to Beth Shalom, it was really cool to see where my synagogue began," Goldenberg said. "I also thought the stained glass [on the building] was really neat." Students were surprised to see that the current owners of the building had left most of the original decor, such as Stars of David and Hebrew writing engraved above the entrance.
Additionally, HBHA high school students visited 18th and Vine, Troost Avenue, and the old Arrowhead Stadium location. At each of these Kansas City stops, Principal Clauer and Molly Fleming-Pierre explained how and when discrimination had taken place in previous years. African Americans and also the Jewish people were forced to live in these areas due to the racism and anti-semitism of the time.
Middle and upper school administrative assistant Jean Bratt spoke about her favorite part of the trip, ""Well I really enjoyed learning about the Pendergast boys and I just like going down and seeing where things were."
Students and teachers returned to school with a new knowledge of Kansas City's past. Clauer, believes that the trip was vital for several reasons. "This was an important trip because it helped our students see Kansas City from a new perspective, [it allowed them] to see how the Jewish community grew and moved over time and [for them] to be exposed to hardships, legally imposed, on the African-American community that shape poverty and inequality today – especially when it comes to meeting basic needs such as Health care," said Clauer.
Freshman Leah Sosland recalled what she gained from the experience."It was an enriching experience, and I felt like I had a better knowledge of the history of where I live."