A Look Into Lower School's Winter Showcase
This year, Hyman Brand Hebrew Academy (HBHA) held its 6th annual lower school Winter Showcase on Thursday, Jan. 19. During the Showcase three grades took part: third-graders, fourth-graders, and fifth-graders.
HBHA has been doing a Winter Showcase since 2017, but took a break in 2021 due to COVID-19. When asked about this year's changes, Michal Cohen, 4th grade Jewish studies teacher  said, "it was way happier this year because it was not Covid times." 
This year's  Winter Showcase had two parts. During the first half of the Showcase, all of the children gathered in the Social Hall to perform beautiful songs for their parents. The songs they presented included, "What a Wonderful World," "Somewhere Over the Rainbow," and "Singing in the Rain."
For the second half  of the Winter Showcase,   students had the opportunity to display their artwork and projects from fall semester. For example, the fifth grade Jewish studies class created a video using stop motion animation.  
Cohen  says, "each teacher had  three or four projects." This was so the parents could enjoy all of the fun things their children did during the first half of the school year.
The students created these projects in their Jewish studies, Hebrew, and their general studies classes. They also take "Specials" classes such as art or PE where students learn through different forms of activity. 
"I feel like we needed a little more time to practice," said Cohen when explaining an issue that could be improved for next year. Cohen says one of the reasons that they felt short on time was due to the fact that it was cold and flu season and kids were often absent during this time of year. She also said another reason for running out of time was being off school for long weekends and winter break. 
Cohen said, "Fifth grade Student Council (STUCO) was presenting the whole evening on the stage." Most years, Dr Kyanka, Lower and Middle School Principal, presents the grades, so having STUCO present  made it extra special this year.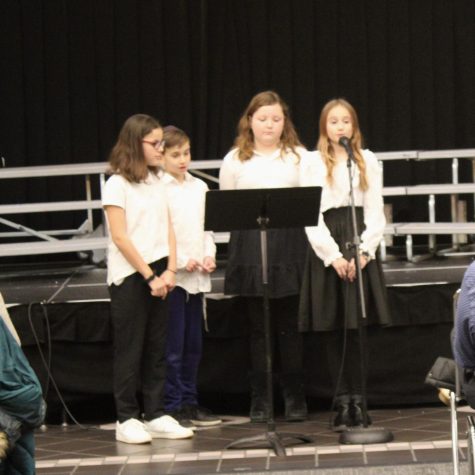 When asking Cohen if she thinks HBHA will continue to do a Winter Showcase in the future years, she replied, "I am pretty sure we will, it was really successful."  
We are so proud of our lower schoolers, and can't wait to see them perform next year.