College and Homework and Extracurriculars: OH MY!
Adena Goldberg
November 10, 2015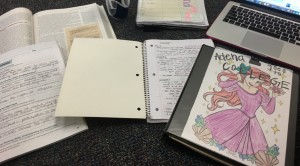 After having spent thirteen years in this beautiful building, I have begun my search to move on. Believe it or not, applying to college is extremely exciting! Thinking about my achievements at Hyman Brand Hebrew Academy (HBHA) and exploring my options for the next four years is incredibly fun. As tedious as college essays can be, they can also be enjoyable. I get to prove myself and my seemingly countless years of hard work, working towards the goal of the acceptance letter and the future of my education. My experience of applying to college has been all this and more, and while it is stressful that I don't know where I am going to be next year, the excitement of actually being in the college process makes it somewhat worth it.
When I think about all of this, it doesn't really seem that bad. I tell myself to just breathe and I will power through and figure it all out, right? WRONG! This process is fine on its own, but when tacked on to a full course load, family life, outside leadership responsibilities, and oh, wanting to live a normal 18-year-old life, it's a little hard. The Royals were amazing in the post-season, making every game a must watch, especially since they became World Champions, but the stress of the three plus hour game limits the time I have to do everything else.
I am not complaining; I love my work in extracurriculars. I am on Regional Board of United Synagogue Youth (USY) and it is amazing to work for an organization that has given me so much. I chose to take the course load I have. From Anatomy to AP Gov, my classes are always engaging and make me actually want to go to class.  The Royals kicked butt in the World Series. How could that be bad? And applying to college is exciting. I am just sharing that senior year is not the "breeze" it's made up to be. It isn't easy having to meet all of these expectations when each supervisor tells me their project is most important, leaving me with a checklist as long as a toilet paper roll.
I have a lot to do. All seniors have a lot to do. It is a stressful but thrilling time! I know that my plate is more than full; it's overflowing. It seems like it was filled by someone who has never seen an "all you can eat" buffet before. But this isn't all that bad. This is a time in my life that I have to figure it all out, I have to overcome these challenges, I have to find the place where I fit in, and tackle all my obligations. It's hard, but it will be exceptionally rewarding once it is all over.