Lauren Levy Joins HBHA's First Grade Team
Jared Schultz
December 4, 2015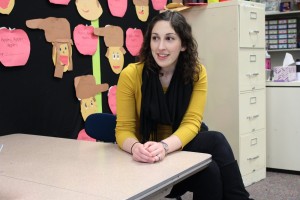 Lauren Levy is the new first grade general studies teacher at Hyman Brand Hebrew Academy (HBHA). She has lived here in Kansas City for her entire life. Levy has a kind smile, wavy, brown hair, and she has the air of a fun teacher who is comfortable in her classroom. She teaches the first grade students reading, math, writing, science, and social studies. Levy smiles as she says, "I like to see [my students] excited about learning and learn[ing] how to read."  She says that they are a fun group of kids and they surprise her every day.
Levy talks about why she wanted to come teach at HBHA: "The HBHA is a special place. It's more of a community, and it's nice to be part of the Jewish Community since I am Jewish myself, and to be more involved and to meet lots of different families and to be able to celebrate the different Jewish holidays as well."
Her biggest challenge with teaching the younger students is keeping their attention for a long period of time. Levy thinks carefully and says, "I enjoy teaching the younger kids, so it's something that I like so the challenges are fun for me." Ms. Levy has taught at public school before teaching at HBHA. She says that the difference between working here at HBHA and a public school is the one-on-one attention she gets to have with her students. Levy smiles and says, "In the private school, the class sizes are smaller, so I have the whole class for a small portion of the day, but there is more individualized attention for all the students and there is a lot more support here during reading. We have aids that come in and help teach reading, so I work with small groups with about three to five kids at a time which is really nice… in public schools you don't have the one-on-one experience."
The first grade students are so lucky to have a teacher as fun as Ms. Levy, and Hyman Brand Hebrew Academy welcomes her to our family.