Climate Change: Our World, Our Responsibility
Haidee Clauer
February 11, 2016
To climate scientists, world leaders, and students at HBHA, the negative effects of Climate change are undeniable and needing of attention.
Climate Change and the World
Farmers across the midwest are losing millions of tons of produce due to changing temperatures. Glacier National Park is estimated to be completely melted by 2030. Over 85% of the species that make up the Great Barrier Reef are already endangered, and only 5% are predicted to remain in 2050. According to the United Nations, weather-related disasters in the past two decades have killed more than 600,000 people and have accounted for losses of trillions of dollars internationally. The previously-ignored consequences of over a century of man-made pollution are inescapably upon us, and they are becoming increasingly urgent.
The challenge of combating climate change has gained a lot of focus recently. The United Nations cites several global data collections to formally acknowledge the rising concentration of greenhouse gasses in Earth's atmosphere. These changes have been noticeably significant since the Industrial Revolution in the late 18th century, mostly due to an increased use of fossil fuels. Consequences of excessive coal usage and carbon dioxide emissions are becoming increasingly dangerous. The Intergovernmental Panel on Climate Change (IPCC) found several repercussions of nonnatural increases in greenhouse gases. These phenomena include the melting of glaciers, a rise in sea levels and, consequently, the inward expansion of coastlines, and an overall global warming of 0.85 degrees (celsius) between 1880 and 2012.
In 2014, the IPCC projected many more effects of climate change, including more contagious diseases, a drop in agricultural yields, mass animal and plant extinctions, and more problematic and extreme weather.
These consequences are worrisome to scientists, politicians, and citizens worldwide, and reasonably so. People everywhere have begun to feel the urgency of taking action to slow, stop, and eventually reverse climate change. This means making personal changes as well as implementing international regulations.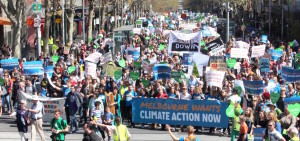 Climate scientists and world leaders recently met in Paris for the 2015 Climate Summit, in a continued international effort to regulate and reduce carbon emissions and deforestation, as well as reforming the international economy to be run on clean, efficient energy instead of oil and coal. Despite the optimism of the delegates in Paris, many scientists believe that, even in the unlikely case that every nation fulfills their regulation promises, the summit still will not accomplish the goal of stopping global warming before the global temperature rises to 2 degrees celsius. This 2-degree limit, which includes the .85 degrees of warmth so far, is an attempt to control climate change before it reaches potentially irreversible damage. While international bodies work to find large, effective solutions, it is imperative that individuals also take their own steps to create a better future for the planet.
Climate Change and HBHA
In a recent poll of the entire high school student body at HBHA, over 77% of students said that they were "afraid of potential consequences to our planet if not enough is done to combat climate change." However, it is often difficult to effectuate change on a personal or even institutional level.
One step HBHA students have taken to contest climate change is the starting and running of Holchim Yarok. Holchim Yarok (literally: "going green" in Hebrew), is a student-run club that oversees the recycling and environmental education program at HBHA. Members of the club administer and manage the building's recycling bins, fundraise to purchase light, water, or energy-saving appliances for the school, and run environmental education programs for the students.
Seniors Lindsey Paul and Lainie Kaseff are the current co-presidents of Holchim Yarok. Paul is optimistic about Holchim Yarok's continued progress, but insists that more actions can be taken by the club and everyone in the school. "I don't think we're doing enough," she says. "I think we all need to be more aware of what we're doing, such as turning off lights, not wasting paper, not wasting water, and not using as much electricity. I'm proud that we have a Holchim Yarok club, and that as a student body we are pro-environment, but there's always more we could be doing."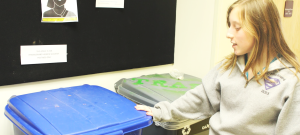 There are many steps, small and large, that students and administrators can take to combat climate change. One easy action is turning off lights when a room is not in use. At HBHA, T8 fluorescent light bulbs are in use in almost every classroom. Switching to LED replacement bulbs would be more than 30% more efficient, saving the school money, in addition to energy. Some other easy actions to combat climate change as a school are unplugging unused appliances, replacing paper towels with air-driers, and even hanging up posters and fliers educating students about being environmentally-conscious. Larger efforts could be taken as well- installing a green roof or solar panels, using only eco-friendly products and recyclable packaging at the Ram's Cafe, and investing in water bottle filling stations. All of these, and more, are tangible steps HBHA can take to save money and resources. Paul stresses the need to take these concrete actions in the fight against climate change. "We have this loose goal that everyone's thinking about but no one's really taking action for."
Indeed, effectuating significant change is easier said than done. Many people overlook the importance of cutting down on their carbon footprint or conserving energy, water, and waste, often because the return of these investments is not immediately visible. Still, even actions that seem insignificant are critical if the Earth is to maintain a safe and habitable climate. Paul encourages everyone to take small steps toward making our planet a safe and inhabitable home. "Understand that every person really does make a difference," she says. As a school, HBHA puts a lot of focus on tikkun olam, the Jewish concept of  "repairing the world." HBHA often highlights social justice, and the issue of climate change is one that, until recently, was undervalued.
"This issue is important to me," Paul emphasizes, "and it really should be important to everyone. It's our world, and if we don't take action, it won't be our world for much longer."