High School Students Take a Trip to the Truman Library
Gabrielle Abrams
March 1, 2016
On Jan. 15, 2016, 11th and 12th grade Hyman Brand Hebrew Academy (HBHA) United States government students visited the White House Decision Center at the Truman Library in Independence, Mo. During the week preceding the field trip, the two government classes (the Advanced Placement and 11th/12th class) combined to learn about Truman's decision making in the atomic bombings of Hiroshima and Nagasaki in August 1945. Earlier that year on July 26, 1945, the United States, China, and United Kingdom called for the surrender of the Japanese with the alternative as complete destruction. In response, or lack thereof, the Japanese ignored this request, and Truman chose the latter option. The bombings caused over 100,000 civilian casualties and sparked a lot of questioning of the reasoning and ethics behind the decision.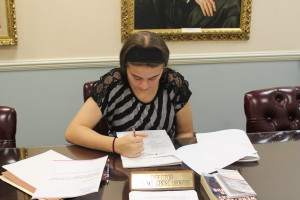 The U.S. government classes gathered reading materials to further their knowledge of the event and learned about the role of one person in Truman's cabinet that they were assigned  to play in the White House situation room. For example, some students played the parts of United States Ambassador to the Soviet Union, Army Chief of Staff, Press Secretary, Secretary of Defense, and others. In a combined government class, student ran through a practice simulation of what would take place at the library the following week.
On the day of the simulation, students dressed in nice business attire as if they were visiting the White House. The Head of the Truman Library spoke to the U.S. government students in order to prepare them to make the crucial decisions they would have to face. Each person had their own room to prepare for meetings. Seniors Ella Pavin and Jacob Katz were the United States Ambassador to the Soviet Union, W. Averell Harriman. They had to read through documents to prepare for their meeting with the Secretary of War. Throughout the process students were referred to as Miss or Mister and had name tags and plaques on their desks to make it seem more authentic.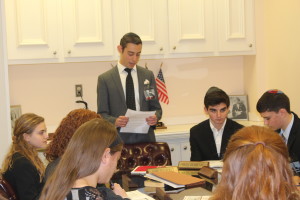 At the end of the day, everyone gathered for a debate with Truman about the best plan of action. Junior Ariel Brudoley portrayed Truman and addressed the students and faculty chaperones regarding the tough decision that lied ahead. Brudoley spoke about how to confront the families that lost lives. He brought the whole room to tears and even shed tears of his own. Brudoley preached that the harsh reality of war is that lives will be lost, but in the end it will be for the greater good of the country.
HBHA Middle and Upper School Executive Assistant, Jean Bratt, remarked, "Ariel just stepped right into it and took on the persona. You weren't seeing Ariel, you were seeing someone as the president. He became the president." The students walked away having had an incredible hands on experience with a difficult time in our nation's history.