Two Schools, One Team: Hyman Brand Hebrew Academy and Midland Adventist Academy Join Forces in Cross Country
Mirra Goldenberg
October 14, 2018
Slider image by Mirra Goldenberg.
For the Hyman Brand Hebrew Academy (HBHA) a sports team few in numbers is rather common. However, this is not a characteristic unique to HBHA. Soon after the 2018–19 school year began, the cross country coaches from Midland Adventist Academy (Midland) and HBHA worked together to create a joint team. This gave the runners from Midland a chance to have a complete team when running with the HBHA athletes.
"I have been trying to grow the Endurance Sports program at Midland Adventist Academy since 2015," says Midland Cross Country Coach Tristan Karr. Like HBHA, Midland often struggles to assemble entire sports teams, especially for cross country.
A similarity between the two schools is their observance of Shabbat. As Adventists, Midland celebrates a common day of rest with HBHA, therefore, both schools only participate in weekday races.
"The first season I sponsored the cross country team," said Karr, "we ran in just three races: Jeff West, Ozanam, and Hyman Brand. After that, I worked to find more races that my team could compete in that were not on the Sabbath. This is very difficult as many of the events in our area are on Saturday."
"Each time we have had encounters with students from HBHA," Karr said, "they have been very positive. So, I met with [Athletics Director, Physical Education Teacher, and Mentor Austin Benton] and pitched the idea of having a combined team."
Without enough runners, teams lack the ability to win medals after races. Fortunately for HBHA's three male runners, Midland was able to bring four additional runners to join them in races.
Karr said he "thought it would help [their] middle school team as they would feel more comfortable with more teammates, and it would give [his] high school team an opportunity to compete as an actual team– which they never have had the ability to do."
Aside from the numbers or even the brand new uniforms combining the teams, both schools have benefited from the merger of the teams.
"I think the real benefit has been more about the personal encounters and making friends with like-minded athletes outside the walls of Midland," Karr explains, " … and Hyman Brand's student-athletes have been so friendly and positive–it has been a treat to hang out with them."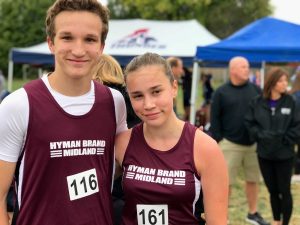 One of HBHA's two cross country coaches Marla Brockman, has "noticed how well we trained and are trained for races. We have specific goals each practice-speed, endurance, strength, and the Midland runners get to learn this as well."
With a sport like cross country, it can be difficult to feel like a team because it differs from other sports in how the athletes work alongside each other. Bringing these two schools together not only creates new relationships between the runners and coaches, but also forms a friendly atmosphere between the teams while racing and practicing.
"Even though schools are technically competing against each other, it has always felt like we are all on the same team…The team is about more than just competing, it is about expanding and building community," says Karr.
Senior Alec Hill said he has "gained a competitive running partner who pushed the hell outta [him] in [their] practices and meets together."
By forming this connection between Midland and HBHA, they will have an everlasting relationship. It can only become stronger as the seasons go by.  For example, Karr plans to invite HBHA athletes to join their arising swim team later this winter.
"I hope that we can continue to build a more robust program, grow our athletes, and teach them the importance of fostering a healthy-active lifestyle that they will keep forever," says Karr.  
At HBHA, students learn how to balance sports with school work. HBHA stresses the importance of extracurricular activities and building new relationships with diverse groups of people. By joining forces with Midland's cross country team, HBHA is able to accomplish both of those aspects.