A Road to Justice, or Shortcut to Money?
Anna Clauer
October 17, 2018
Slider image courtesy of Flickr.
Back in August of 2016, Colin Kaepernick, the San Francisco 49ers quarterback, stood up to racism by not standing up for the national anthem. After fans expressed both hate and support toward his actions, he was unsigned for the 2017 football season.
This year Nike launched a campaign titled "Dream Crazy",  narrated by Colin Kaepernick. The ad included many other prominent athletes including Lebron James, Usain Bolt, and Serena Williams. In the video, Kaepernick states: "Believe in something. Even if it means sacrificing everything." Like Kaepernick, Nike is taking a risk. But unlike him, they are not quite "sacrificing everything."
Yes, Nike has gotten plenty of backlash, and initially Nike's stock even dropped. Many people boycotted Nike and some went as far as cutting the Nike symbols out of their socks and shoes or burning them. Two days after the launch, Donald Trump tweeted that "Nike is getting absolutely killed with anger and boycotts". But Trump was not entirely correct. In fact, only a few days after the backlash had settled down, the sales shot back up.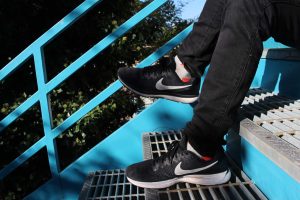 This brings up the question: Is Nike truly taking a hit for its campaign? Nike's ad may seem to be taking a stand against racism, but sales should also be factored into the equation. Like all companies, making money is a priority. By putting famous athletes in their commercial, it is obvious that Nike will benefit financially from these prominent figures.
Nike's intentions are also disputable. According to a study by Morning Consult , 32 percent of the people questioned believed that Nike was mainly focusing on Kaepernick and social justice. A larger 38 percent believed that it was mostly to benefit Nike- financially and for publicity. The last 30 percent had no opinion. The majority agreed with the previous point that Nike was probably launching the ad for financial motivations rather than political convictions.
The only problem is that Nike did know that they would take a hit for at least a few days. Their ratings overall went down, and their favorability dropped throughout all generations, races, and political parties. Why would Nike produce an ad that they knew would affect their appraisal?
Maybe this is because 78 percent of Americans expect large companies to take a stand for social justice issues. Consumers want to align with a company and agree with its motives. Controversial ads achieve this end, which is especially helpful for a $94 billion company like Nike.
As mentioned before, the controversy behind the campaign increases Nike's publicity. It doesn't matter that plenty of the feedback is negative, the fact that they are getting feedback is what matters. As long as people are talking about Nike, good or bad, they are promoting Nike and its brand.
All in all, Nike could be creating this campaign purely because they believe in social justice and standing up to racism, primarily in sports. Profit and publicity aside, Nike did create the ad. They chose to use their prestige towards the attention of their consumers. They achieved their goal, which was to widespread the message to dream crazy.