No School in September? What Students Did for the High Holidays
Ayelet Schuster
October 15, 2018
Every year, the fall is filled with the celebration of multiple Jewish holidays. For students at the Hyman Brand Hebrew Academy (HBHA), the holidays mean days off of school. But what were students actually doing to celebrate with all the time off?
The first of the High Holidays was Rosh Hashanah, which is the Jewish New Year. To begin the holiday, families often get together to have a holiday meal. Sophomore Abby Kreisler says that "the most meaningful part of the high holidays … is the meals and spending time with family." In particular, Kreisler said that the Rosh Hashanah meal is special because "it is the best way to welcome in the new year."
Eighth grader Annie Fingersh also enjoys going to family meals for the holidays. Each year, Fingersh and her family go to her grandparents' house to celebrate and eat. She says, "I always look forward to eating my grandma's brisket and matzo ball soup for Rosh Hashanah."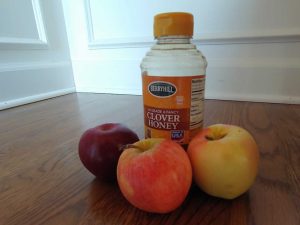 Some people's families do something different for the holidays every year. This year, Junior Ethan Herman had a unique Rosh Hashanah experience because he went out of town. Herman and his whole family went to Arizona this year to celebrate his grandma's birthday and Rosh Hashanah. He says "I am excited to be able to be with all of my family for Rosh Hashanah." Since he will not be at home, Herman is "excited to see what the services will be like because I have never been to the synagogue before."
After Rosh Hashanah comes Yom Kippur, during which Jews are supposed to fast in observance of the holiday. Since the fast goes on for over 24 hours, eating beforehand is important. Freshman Shir-el Rudnick says that one of her favorite parts of the High Holiday is "the feast before the fast on Yom Kippur begins."
Seventh grader Ellie Glickman says: "The most meaningful part of the holidays are the services because I like to reflect on my year and think about how I'll change for the next year. I always feel like I know more about myself."
Yom Kippur is spent repenting for sins and fasting, but people have traditions that take place before or after the fast. Kreisler says that her family "enjoys being together to get through the fast, and then finally getting to break the fast together." Rudnick says "on the night that Yom Kippur ends, my family builds the border of the Sukkah."
As soon as Yom Kippur ends, families begin preparing for the next holiday, Sukkot. Glickman " look[s] forward to Sukkot because my family likes to invite a lot of guests at my house." It is customary to host guests for a meal on Sukkot. "We eat great food, and get to catch up with families we have over for Sukkot every year," says Glickman.
While some families host, others are guests in people's sukkot. Kreisler is "excited to have dinner in other people's sukkot." She is most excited to go to "the cross country team Sukkot dinner after our meet."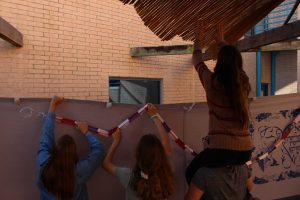 The High Holidays are a time of celebration, repentance, and meaningful time spent with family. To most students, the High Holidays mean a time of being with family and friends. Spending time with loved ones over the holidays for meals and taking part in time-honored traditions is one of the many reasons why the High Holidays are such a special time of year.