New Year, New Team: KU Given High Preseason Rankings
Ilana Fingersh
November 16, 2018
Slider image courtesy of Flickr.
Last season, sports enthusiasts doubted the University of Kansas (KU) Jayhawks. The critics thought that they were too small, and their starters didn't compare to the top recruits of other schools. But KU surprised everybody and made it all the way to the Final Four. This season is a different story: They are ranked No. 1 in preseason rankings by highly regarded websites such as ESPN, NBC Sports, and Sports Illustrated, including being ranked No. 1 in the Coaches Poll. So how are the Jayhawks going to match up with other top teams, and can preseason rankings be trusted?
High preseason rankings are not unusual for KU. They are normally placed pretty high in the list of teams, but this season KU was ranked No. 1 by the AP Top 25. The AP Top 25 polls 65 sportswriters and broadcasters asks them to rank in order their top 25 teams. These teams receive points based on their rankings, and all their points are added together to determine their final placement.
Last season, KU was led by senior point guard Devonte' Graham, who has since graduated and plays for the Charlotte Hornets. "To lose a leader like him is very difficult," says avid KU fan and former Hyman Brand Hebrew Academy (HBHA) parent Eric Kaseff. But new recruits "[Quentin] Grimes and [Charlie] Moore will make up for [Graham's] lost talent." These two new stars will help KU with ball handling and shooting, and will hopefully compensate for some of the leadership that was lost. These two players have already been cited to be some of KU's best, but throughout the season, fans will likely see them improve even more.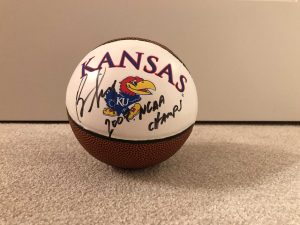 This coming season, Coach Self has "a team [unlike] any other in the last 15 years," says Kaseff. KU's top recruits include Dedric Lawson and Quentin Grimes, who were speculated to be the Big 12 Player of the Year and Freshman of the Year respectively by SI.com writer Michael Shapiro. This year's Jayhawks team is younger (with only one senior and three juniors) and has greater height and strength than the team last season. Unlike last year, KU will have the ability to run a high-low offense, and as Kaseff says: "with Moore running point and Lawson and [Udoka Azubuike] on the inside, and then having Grimes as an outlet with crazy athletic talent," KU will be hard to beat.
As reported by ESPN.com, the other top contender for the No. 1 spot was the University of Kentucky.  The Kentucky Wildcats are a team who rely mostly on freshmen but also on their new transfers, much like the Jayhawks. Ultimately, KU came out on top due to their versatility. They have three players who are capable of being a point guard, and several others with the height to play forward, but also the ability to play the number two spot.

There have been reports of Adidas paying players from a few teams they sponsor, including KU, to go to those schools. A recent trial just ended where three Adidas executives were found guilty. KU told the public in a press release that there are two more trial dates scheduled for Feb. and April, which limits the amount of commentary KU can offer on the scandal. This will probably put Silvio de Sousa, a current Jayhawks player, on the bench for most, if not all, of the season as the National Collegiate Athletic Association (NCAA) reviews his case. There are also claims by Adidas that Coach Self and other Kansas basketball administration knew about these deals. If this is proven true, it could interfere with this year in KU basketball. As this situation continues to unfold, it will be interesting to see how it factors into KU's season.
All this being said, there is no guarantee that a high preseason ranking means a successful season. "Rankings need to be earned," says KU fan John Ballard. "Coach Self puts very little stock in rankings," he continues. Regardless of how much the rankings can be trusted, KU Jayhawk fans are in for a great season.