A Rise in Anti-Semitism: How it's Affecting HBHA
Ilana Fingersh
December 12, 2018
Slider image courtesy of Ilana Fingersh.
Over the past couple months, there has been an increase in anti-Semitic attacks in the United States. In 2017 alone, there were a total of 1,986 reported anti-Semitic attacks, including both vandalism and physical violence. This ultimately resulted in one of the worst anti-Semitic attacks in US history, The Tree of Life synagogue shooting, killing 11 people and injuring seven more. Jewish communities all around the country fear for their safety because there is always the question: Who's next?
In April 2014, grief and fear rocked the Kansas City Jewish Community. A white supremacist shot and killed two people outside the Jewish Community Center (JCC) after yelling "Heil Hitler". He then drove to Village Shalom, a local assisted living facility and killed one more. All three of the victims were not Jewish, but nonetheless were killed by senseless hate. The Kansas City community came together in vigils and walks, and is working hard to ensure that this community will not have to endure again the heartbreak and loss felt in 2014. Hyman Brand Hebrew Academy (HBHA) and the JCC are taking steps to try and prevent one of these attacks from hitting Kansas City again.
Throughout the country there has been a recent rise in anti-Semitism. The number of anti-Semitic attacks rose 57 percent in 2017. Synagogues, schools, and colleges alike are all being targeted by anti-Semites simply because of their religious affiliation.
Zohar Flacks, the Director of Jewish Life at HBHA, says that nowadays "it is more 'acceptable' to show anti-Semitism," and that this could be a reason for an increase in violent attacks. Hateful messages are found on lockers, graves, and in the mailboxes of Jewish families. The hate and violence that is resurfacing is isolating Jewish communities from the rest of the country.
To attempt to protect their community members from these horrors, an increase in security has been seen all over the country. Armed security guards are stationed outside of local synagogues whenever congregants are present. Guards patrol the entrances of the JCC and HBHA, protecting the students and staff.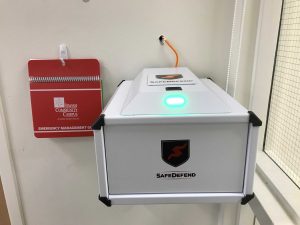 The SafeDefend boxes are equipped with a fingerprint scanner, and once activated by a teacher, the police are called and all other rooms go on lockdown. Inside of the boxes are self defense weapons to use in case of an emergency: pepper spray, a baton, a whistle, a first aid trauma kit, a safety vest, and flex cuffs.
Todd Clauer, Upper School Principal/College Guidance Counselor at HBHA, says that HBHA was planning on adding these boxes even before the tragic Pittsburgh shooting. He hopes that these boxes will "give everyone at HBHA-teachers, students, and staff the ability to quickly notify authorities…administer first aid…and defend against immediate threats." These boxes give students and teachers the power and ability to protect themselves in case of an active intruder situation.
Flacks was born in Israel and fought in the Israeli army. Israel is always fighting to keep their country safe, but in America Jews have different experiences. "In Israel we know who our enemy is…here we don't…you never know where anti-Semitism is going to happen," and the uncertainty adds to the nervousness says Flacks.  
Chuck Green, the Director of Community Wide Security, helped make the decision to add the armed guards and get the SafeDefend boxes. "[The] SafeDefend boxes improve situational awareness, and aids them in their decision making regarding "RUN, HIDE, FIGHT," explains Green. These boxes are located around HBHA and the Childhood Development Center (CDC) in order to protect the lives of children and students. Green is in charge of security not only for the JCC, CDC, and HBHA, but it "supports all Jewish entities such as…Kansas City area synagogues, student groups, and Jewish agencies outside of the campus."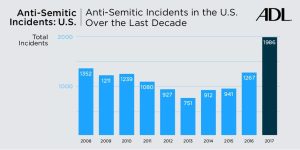 The recent rise in anti-Semitism is multi-layered, but some attribute a portion of it to social media. Flacks says that people feel powerful when they can "say anything behind their computer about radical ideas," and that this trend extends to Europe as well.
Green agrees, saying that "many of the anti-Semitic attacks today use the internet to keep a high level of anonymity, while reaching maximum number of people with just the click of a button."
For Jewish organizations all around the country, anti-Semitic attacks are a constant fear. We never know which community will be struck next. Kansas City has already been victims of an attack in 2014, and with the help of increased security in Jewish settings, and the SafeDefend boxes at school, we will hopefully never have to experience it again.