Will Roe v. Wade Be Overturned? The Supreme Court Addresses the Texas and Mississippi Abortion Cases
Image from Flickr.
Abortion, always controversial, is lately proving to be at even higher stakes as a national right. The May 2021 abortion ban in Texas, also known as S.B. 8, initiated a new age for the limiting of legal access to safe abortions. Banning them after only six weeks, it became the harshest state abortion restriction to be approved in the US. Not only that, but the bill granted any Texas resident the right to sue a person for $10,000. or more for being in any form involved in an abortion past that time constraint.
However, a more recent Mississippi bill has become the official tipping point for the possibility of overturning 1973's Roe v. Wade, which established abortions as a personal liberty and privacy right by nationally prohibiting restrictions on abortions during the first trimester of a pregnancy. The argument was brought to the Supreme Court for a pivotal hearing on Dec. 1 that may result in an eventual federal ban.
Nonetheless, the Texas bill was the initial instigator of what Mississippi has been able to accomplish. The bill went into effect on Sep. 1 after the Supreme Court refused to block it with a 5-4 vote, and for the following month clinics all over Texas halted abortion services, generally in fear of legal retribution. The ban went back and forth with restrictions and obstructions based on court inconsistencies.
On Oct. 6, Judge Robert Pitman of the Western Texas District Court temporarily blocked the bill from enforcement in Texas, allowing some clinics to cautiously resume procedures again. However, only three days after Pitman's order, the renowned conservative 5th US Circuit Court of Appeals voted 2-1 to put a hold on that blocking, appealing Pitman's order for later consideration. And, at this point in time, the Mississippi bill was already looming; it was clear that the fight for abortion restrictions would persist.
For abortion, the common disagreement comes at whether it is a constitutionally protected right or not. As mentioned in Roe v. Wade (1973) the Supreme Court concluded that abortion itself constituted as a privacy right protected by the First, Third, Fourth, Fifth, Ninth, and Fourteenth Amendments. However, due to vagueness in the corresponding amendments regarding this privacy right, many believe that abortion does not count as a private matter. Likewise, in the Planned Parenthood v. Casey (1992) decision, restrictive provisions were made towards abortion access in the states, requiring informed consent from any pateint seeking an abortion and restricting some of the scope of Roe v. Wade's flexibility on fetal viability.
However, Planned Parenthood v. Casey (1992) still allowed far more abortion freedom than is being proposed by the Mississippi case, known as Dobbs v. Jackson Women's Health Organization. The bill, known as the "Gestational Age Act," was introduced in 2018, blocked from enforcement by the federal district court due to the Jackson Women's Health Organization's challenge soon after, subsequently unblocked by the 5th Circuit Court of Appeals, and in 2020 proposed to the Supreme Court by Mississippi officials. The law itself prohibits abortions after 15 weeks of pregnancy, fully abandoning the Roe and Casey viability framework.
The current Supreme Court agreed to hear the case this year and, as previously mentioned, ended up doing so on Dec. 1. The recent six-to-three conservative majority on the court, brought about by former President Trump's three appointees, were willing to not only support the Mississippi restriction but also the likely result in overturning both Roe and Casey.
Justice Kavanaugh argued that the overturning of precedent had occurred many times in the past, so therefore was fully justifiable. Justices Sotomayor and Kagan, of the liberal minority, however countered that the court should not function off of precedent reversals because they stem on the basis of political opinion.
Although it is nearly inevitable that the Supreme Court will proceed to accept the Mississippi case due to it being an unbalanced court, they have yet to officially do so. Assuming it is accepted to court, the probability that Roe and Casey will be overturned, in the end, is high. This will not only impact drive to pass new restrictive bills in individual states, but also cause many abortion bans to be immediately enacted.
"A mass of states have already enacted laws that say that if and when the US Supreme Court overturns Roe v. Wade, laws will go into effect automatically banning abortion, period, in their states," explains KCUR reporter Dan Margolies. These are called "trigger-bans," and they are currently set in place for 12 US states. According to the Guttmacher Institute, a research organization on abortion rights, an additional nine states have bans in the works that will likely be approved. Five other states also have a high probability of instituting new bans.
States that are not included will have the opportunity to decide whether or not they want to restrict abortion to any extent.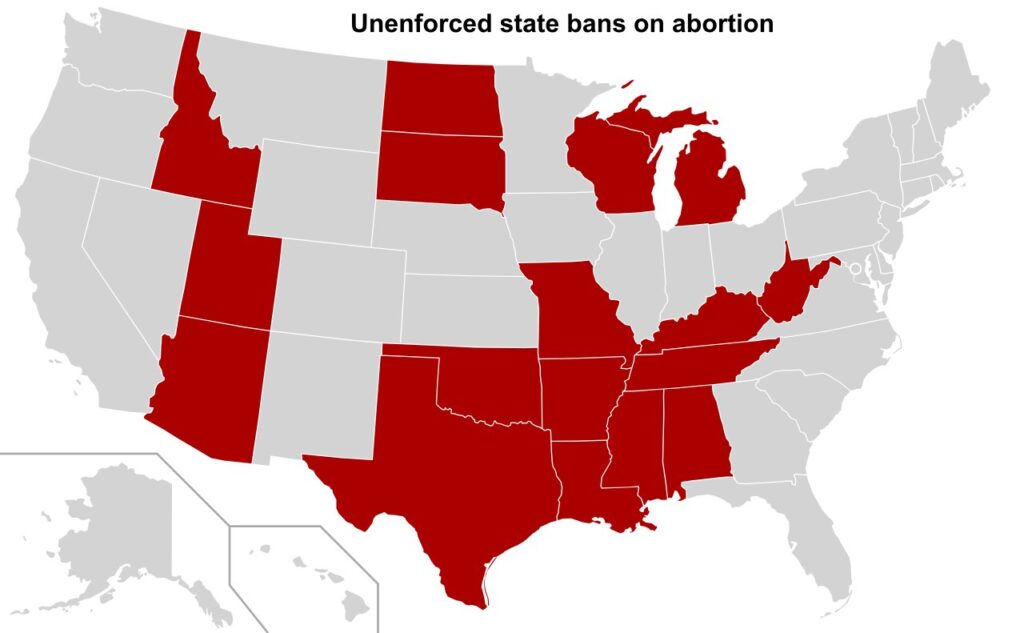 "You're going to see an exacerbation of the divide between so-called blue and so-called red states," says Margolies. "Blue states for the most part will continue allowing abortion, with some version of Roe v. Wade still existing in them. Many of the red states, alternatively, will ban abortion either outright or through restrictions."
The Kansas City Metro will be affected by both the Kansas and Missouri agendas. The state of Kansas is not expected to instigate any bans outright. This is because, as Margolies says, "the Kansas supreme court, two or three years ago, found a right to abortion enshrined in the state contitution. They ruled that a woman's right to abortion is contained in its Bill of Rights."
However, there is always the possibility for that ruling to change. "The legislature has proposed a referendum for this coming summer in which they are seeking to overturn the opinion of the Kansas Supreme Court by having voters vote for a Kansas constitutional amendment, which would essentially nullify what the Supreme Court ruled," says Margolies. So, what could occur in Kansas is generally a toss-up.
Missouri, on the other hand, has both an 8-week abortion ban in consideration that "has been blocked by a federal court judge from Kansas City, Mo. and is up before a federal appeals court," Margolies notes, as well as a trigger-ban.
"I am guessing that the appeals court will wait to rule until the Supreme Court hands down its ruling in the Mississippi case," explains Margolies. Yet, due to the trigger-ban alone, it is clear that the Supreme Court overturning Roe v. Wade (1973) would result in ending legal abortion access in Missouri regardless.
So, for many Kansas City natives, the stakes are high and their abortion rights are in immediate danger. And, if the Supreme Court does end up overturning Roe v. Wade (1973), safe abortions across the entire country will be much less accessible, regardless of legality, because, in reality, banning abortions will not stop them from occuring. Ending Roe would also result in drastically higher conviction rates for illegal abortions than were present before 1973, when Roe legalized abortion for the first time.
So despite differing stances people may have on abortion, it is evident that the tailend of both the Texas and Mississippi cases will undoubtebly result in major challenges the country will have to face. And circumstances continue to change; on Dec. 10, the Supreme Court officially ruled on the Texas law that the six-week ban will remain in place. So although the Mississippi case may be the primary law putting Roe in danger, S.B. 8 is nonetheless impacting the country.
However, the uncertainty regarding where Roe may stand months from now remains a significant cause. 54% of a polled US population sample are fully in favor of keeping Roe and full access to abortions, so whatever the Supreme Court may decide and however the country may look a year from now, its circumstances will unquestionably involve public disapproval and national havoc.