HBHA Weaves The Jewish Tapestry of Our Community
Hyman Brand Hebrew Academy (HBHA ) prides itself on being a school for all Jewish students, no matter how religious they are. The school seeks to create a space where all students feel comfortable and learn lessons to prepare for their secular and Jewish lives. 
Students can incorporate their religion into their daily lives, but the multi-denominational character of the school can lead to issues. 
Rabbi Berel Sosover, a teacher at HBHA, says, "our challenge is that we are a one size fits all Jewish day school with the same schedule for everybody. For some students, it's a perfect fit, but for kids coming from more religious homes… [it] definitely could use more Jewish studies."
Rabbi Sosover says that it's difficult to accommodate all students because some parents want more Jewish education, "and then there are the students who are not interested. It's a tricky situation of how you can put something like that into practice in a way that fits into the school day. It is something that, if it's possible, like an extra elective… I think it can and should be done."
Getting to the core of the balancing act the school has to perform, Rabbi Sosover notes that the school strives to accommodate all Jewish students, yet they cannot meet religious families' wants and needs for fear of alienating the less religious families?
Rabbi Philmus, the new school rabbi at HBHA, has a unique perspective on this issue. As this is his first year at HBHA, Rabbi Philmus is experiencing everything for the first time and can consider this issue with fresh eyes.
Regarding how HBHA handles the wide spectrum of students, Rabbi Philmus says although there are inevitable difficulties with a school of this sort, there is no replacing it. "I don't think a school like this really exists, other than this school."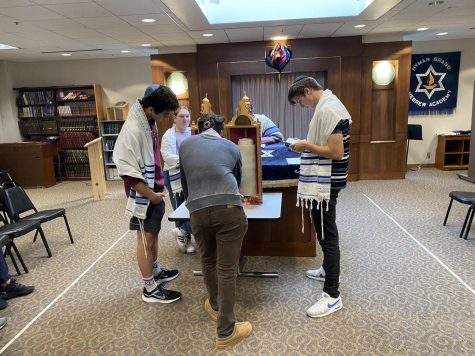 Before coming to HBHA, Rabbi Philmus taught at another Jewish day school in Northampton, Mass. He says, "It was a good experience, but it was… one flavor, and it was a tasty flavor, but it was also not as dynamic as this." 
"I love that a lot of learning here is not just in the classroom. I see students interacting, who are coming from very different backgrounds Jewishly, and I think that they're learning from each other. That maybe…is more valuable than the stuff they're learning in the classroom because it's real, it's genuine, and they can relate to it," says Rabbi Philmus.
  He compares HBHA to "a little miniature Israel, because you really do have the gamut from pretty secular, like Israeli and agnostic and atheist… all the way to the Hasidic… because of that, you get exposed to that early on and you can take those pieces with you, and feel what your soul is here to be connected to."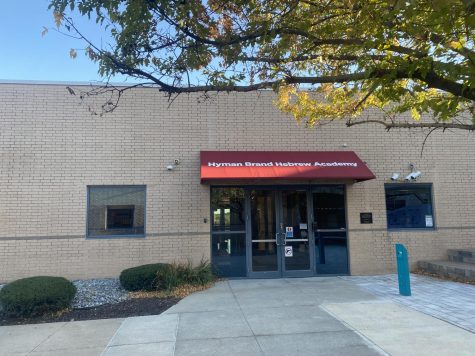 Sophomore Zachary Granoff says that "there are definitely parts [of the Jewish curriculum] that can be improved, but I think it's good for the scenario… they definitely could improve it, but it's decent."  He also says that the orthodox students are sometimes left wanting more, while the reformed students are stuck wanting less.
Once again, Rabbi Philmus has an answer. He says, "You can't make everybody feel comfortable and happy all the time… The tension there, it's part of the package of having a school like this. It makes it uncomfortable for everybody at some point, but…maybe part of the lesson that we get is that being part of a bigger community is making space for other people and their ways of doing things sometimes. [Another part of this is] pushing back or being pushed back on what you believe."
Rabbi Philmus sheds light on what HBHA is truly about; it is not only about finding a way to implement Judaism in everyday life, but it is also about pushing boundaries and learning from others who may think differently. This school cultivates a feeling of community and shared learning that can only be achieved through the coexistence of all different types of Jews. The so-called problem that arises from this diversity is, in actuality, a strength of the school: It allows us to learn from each other and grow into new and better people.