Get to Know HBHA's Newest Friendly Faces
As an exciting start to the Hyman Brand Hebrew Academy (HBHA) school year is progressing, so are the experiences of some fresh faces at school. In August, HBHA welcomed six new students to the middle and upper school. Four months later, I would say they are well acquainted with our not-so-extensive halls. But how have they been adapting to this new environment? Fortunately, I have been able to speak with them to get a better feel.
Moving schools can be intimidating for many HBHA newcomers. For seventh grader December Valdivia, transitioning to HBHA directly from elementary school relieved some of that pressure. "I was apathetic to the idea of going to a new school because, the way I saw it, I'd be going to a new school anyway," she explains.
December Valdivia further emphasized that the adjustment of "downsizing," so to speak, is a substantial change upon arriving at HBHA. "Whiplash, I guess, would be the best word to describe it," she says.
The culture shock of joining such a small school community was a mutual feeling for most new students. "I thought it was gonna be bigger," explains sixth grader Adam Ballard. Now part of a ten-person grade, it is a vastly different experience than his elementary school. 
"I had 26 kids in my class, not counting myself," Ballard says about his class last school year,  "There were at least 20 students in each class, and there were three classes" total.
Seventh grader Aedan Philmus, who attended a public middle school in Rhode Island last year, says that "there were 200 people in each grade." 
Numbers aside, new students noted that the HBHA environment is distinct and unlike the schools they came from. When tenth grader Jei Valdivia started the school year, "I only had stereotypes to go off of, so I wasn't sure what everyone was gonna act like," she says. Valdivia continues, "I was surprised that mostly everyone is super nice and has been very welcoming."
Nicholas Menn, a new sixth grader, also recalls that he expected the HBHA community to be different than it turned out. "What I was expecting," he states, "was that everyone would be orthodox and really observant." To his surprise, the school's multi-denominational student body has become a defining characteristic of his experience.
Sophie Philmus, a tenth grader, was also surprised by the variety of religious observance levels found between students. She explains that, at her old school, "there was definitely a very small percentage of Jewish people there." She expressed that she appreciates HBHA's pluralistic environment, especially having gone to a Jewish day school up until fifth grade before her more recent four years in public school. 
"I definitely lost a lot of my Jewish education being at public school for that many years," Sophie Philmus says. "I also personally like the small school one-on-one type of thing and small community."
Jei Valdivia would agree with Sophie Philmus about HBHA's tight-knit community.  "There's not a lot of one-on-one time that you can have with a teacher in public school because they're constantly trying to do other things, and it's not like you can't rely on them, but they're not the most reliable to go to," she confesses. "So that was a big adjustment for me – realizing that I could actually reach out more to my teachers and ask for help."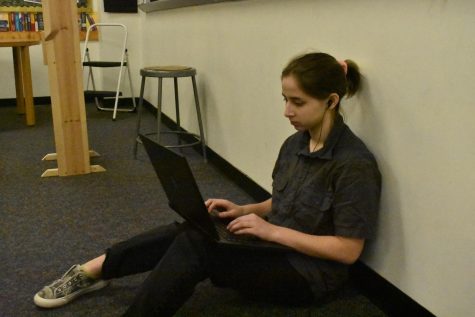 Like her sister, December Valdivia is especially grateful for the reliability of some of her teachers. "I like that instead of me having to adapt to their teaching style, they're adapting themselves to my learning style, which is really nice," she says.
Transitioning to a Jewish school has also granted students more appreciation for their Judaism. Ballard explains that prior to this year, he was unable to retain much Hebrew the way he had learned it. "Every summer I would learn the same things over and over again just to keep them in my brain," he says. Now that he's able to learn Hebrew in school, he's excited to learn new aspects of the language.
Aeden Philmus has also enjoyed returning to a Jewish day school after attending a public school last year; his favorite class right now is even Jewish Studies. Recently in the class, he says, "we learned about the four species of the lulav, which was fun." He further expressed to me that he is excited to learn more about Judaism as the year continues.
Menn, alternatively, has been most excited for the athletic opportunities HBHA offers him. Fond of soccer, he played on the middle school team this fall, which was his first time playing through school as opposed to a club. He appreciates that HBHA doesn't cut players from teams, and everyone is encouraged to participate in a variety of sports. Likewise, Menn was additionally convinced to try out basketball for the first time this winter. "I could see myself liking it if I get better," he says.
Ballard, on another note, has been enjoying taking both familiar and new classes this year. When I asked his favorite subject at the moment, he explained that for him "It's a tie between science and graphic design." In science class he has particularly liked studying geography, and since this is his first time taking graphic design, he is loving learning the ropes.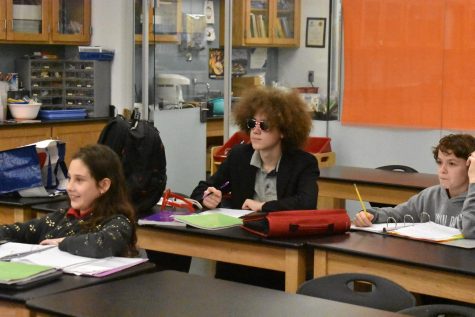 For December Vadivia, her interests lie in, as she phrases it, "anything creative arts." In particular, she enjoys writing, drawing, and composing music. At HBHA she has also found a liking for graphic design. "For writing classes, the teacher that is teaching me writing knows I really enjoy creative writing," December Valdivia expresses, so they have actually allowed her to put that creative writing to use more often than other students.
Math being her favorite subject, Sophie Philmus has been delighted to partake in it this year. She has enjoyed the first three months of class, and she likes her teacher. "I'd say it's challenging here," she admits, but nonetheless "it's a good fit" for her.
Despite much excitement for the academic and athletic opportunities HBHA has to offer, some new students acknowledge that being at HBHA for the first time has involved adapting to difficult surroundings. "Honestly, I think it's a good school," December Valdivia expresses, "To also be honest, there are things I don't like about it." Nonetheless, she is hopeful that as the year progresses she will ease more into the HBHA environment.
And December Valdivia is not alone in her journey to acclimate to the school; all six new students are still getting the hang of HBHA student life. Right now they all can attest that they are successfully discovering their own ways to thrive at HBHA, whether it be learning new concepts in their favorite subject, befriending new classmates, or just taking advantage of the new, divergent opportunities HBHA has to offer.