Wait a Minute, HBHA Has an Esports Team?
Hyman Brand Hebrew Academy's (HBHA) sports include: Basketball, soccer, cross country, volleyball,… and Esports?! Yep, you read that right. For the first time in the school's history, an Esports team thrives at HBHA.
Esports (short for electronic sports) is a modern sport that involves competing in the form of video games, both individually and as part of a team. Esports competitions can occur in-person or online. 
While Esports teams are not common in many schools, the popularity for this new form of sport is growing. 
The team began competing this year, although the process to get to this point was not simple. The team's founder, senior Daniel Thomas, describes the extensive process he went through in order to bring the team into existence. His journey began toward the end of last year. During this time, Thomas began conversations with HBHA Athletic Director Austin Benton about the team's formation, although Thomas  later ended up talking mainly with Director of IT Tech Ed Advisor Richard Borlaza, who became the team advisor.
Having teamed up with Borlaza after a long summer of difficult communication and sorting out the actual setup of the team, other problems began to arise. For example, the recruitment of students to play on the team.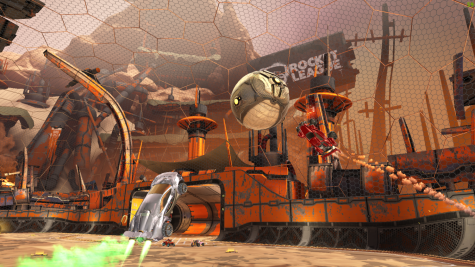 Thomas says somewhat comically, "It's hard to get people to do things sometimes."
Aside from wrangling fellow high school students to join the team, Thomas also faced the challenge of figuring out how the High School Esports League (HSEL) worked and what competing in it meant. This involved attending a conference with the HSEL.
Even after team members were recruited and the processes with the HSEL sorted out, there was still the problem of timing. In addition to being a part of the team, HBHA players also participate in youth groups, physical sports, and have other obligations such as school work. For some of them, carving out time to play Rocket League at 8 p.m. on a Thursday was not an easy task. 
Despite these apparent setbacks, the team endured.  
As of Nov. 10, the team participated in four competitions, all of them in the game Rocket League. Rocket League is a virtual soccer game, except the soccer players are rocket-powered cars instead of people.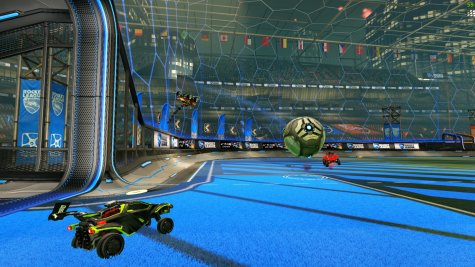 Out of the four competitions, the team won the first one, beating the opponent 4-1, while on the other three, they withstood a painful loss of 0-4.
One member of the team, junior Simon Balanoff, says, "I'm always an avid gamer. I love meeting up with my friends and having a good time."
"Winning is fun," says David Wasserman, a freshman member of the team, "[J]ust getting to hang out, it's fun."
"[T]here are some students here who are not interested in playing physical sports. They're not interested in soccer, they're not interested in basketball, but they may be interested in Esports and that's something they can do," says Thomas, "I think the greatest benefit is just diversifying the athletic scene, the competitive scene here at HBHA."
"I think that creating Esports teams provides some of the same benefits of being on other team sports," says Borlaza, "We have some phenomenal gamers at HBHA. I hope our players hone their skills and our teams start winning some tournaments!" 
After he graduates, Thomas hopes that the team will continue to thrive. He says, "I think it's just up to me and up to the other people on this team to be the example for 'We can do this.'" He shows us through his own efforts that in order to start something great, all it takes is one person passionate enough to put in the hard work.