Through a New Lens: Amanda Birger Joins The HBHA Team
You may have seen a new face looking through the lens of her camera in the halls of HBHA. Her name is Amanda Birger, and she was hired this year as HBHA's new Communications Manager. 
"I've always been a musician since I was little, I love to sing and play piano," said Birger when asked about her interests. She continues to use her musical talent here at HBHA during Taste of Shabbat. When she isn't running the livestream or taking photos, Birger grabs her guitar and plays along with Rabbi Aaron Philmus. Aside from music, she also has an interest in painting and Pottery. She said, "I also really like puzzles, word puzzles, Jigsaw puzzles, that kind of thing. I really like to explore my creative side."
As a former student here at HBHA, one of Birger's main goals was to capture the spirit and personality of HBHA by highlighting all of the aspects that make HBHA special, as she said, "Our school is so unique because our students come from so many different backgrounds."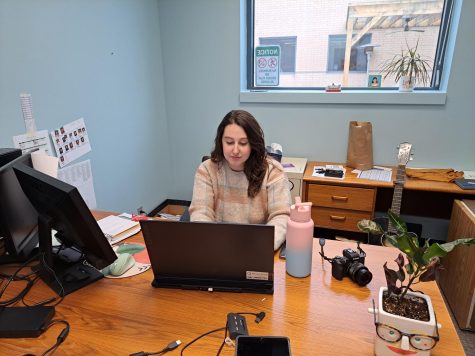 Birger continued, "we have interfaith families, we have converting families, we have Orthodox families, conservative, reformed, reconstructionist, we have everything. It's so interesting to see all of these kids interact and learn about the different facets of Judaism from each other." 
As Birger has taken on her new position, her main project has been to further engage the students in HBHA's social media sphere, as she said, "One of the audiences I felt was under-targeted, was the students. We want to keep them happy as well, we want to make sure that they're telling their peers how much they love HBHA." This goal has mainly been accomplished through the new HBHA TikTok, where Birger makes fun and silly videos that are more appealing to the student body of HBHA.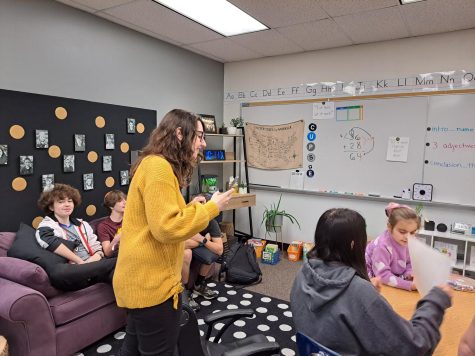 But this project didn't come without its challenges, as Birger discussed issues that she faced while trying to create content for the school on TikTok. One of the biggest issues was explicit content, as many consumers on TikTok are young adults, and thus they create and use sounds that are suggestive. Additionally, many parents at HBHA do not allow their children to be recorded for promotional material. Despite this, she is able to create quality content for both the students and the parents.
Birger explains that it is also necessary to identify the negative effects of social media. She stated that social media platforms can often be toxic for children and young adults, especially for women and girls. Birger says that many of the images and videos shared online do not reflect reality, and it can be easy to miss the truth of a situation, "…the biggest thing I want to say about social media, you can use it as much as you want, as long as you can tell what's fake and what's real."
In addition to its challenges, this new social platform that Birger had chosen to utilize also came with benefits. Many kids find it difficult to feel included and at home in their social environment.. And social media is one way that children and young adults have found their community. In Birger's words, "Content creation is one of my favorite things that's come out of social media. It's given a lot of kids a way to express themselves in ways that they hadn't even thought of before."