Artist Spotlight: JPEGMAFIA's Dark, Enigmatic, and Humorous World
JPEGMAFIA, or Peggy for short, is a rapper and producer from Brooklyn, New York, and he has been making experimental music since he was young, which culminated in his unique skill to not only rap but also produce, mix, and master his own songs. In addition to his gift of making music, many people are attracted to his unique personality. They are drawn in both by his lyricism and way of communicating with his fans on places like Twitter and YouTube. All of these qualities make him a curious figure worth watching and paying attention to at the very least.
Peggy's unconventional personality and music style culminated in his 2018 sophomore breakout album "Veteran." This album is his most experimental, unhinged, and unique experience. Peggy always has great intros to his albums, and this is apparent in "1539 N. Calvert," a song that shows his knack for unique production and provocative lyrics. It is his most popular song for good reason. Peggy also has an ear for odd sampling, which is shown in his producer tag for this song and various others. Sampled from WWE and Jim Johnston's "WWE: Anthology – the attitude vol. 2," the line, "you think you know me," plays over the booming intro. This idea creates a mystery around Peggy as a person. Do we really know him? This line is embedded in all of his albums at some point, and it hammers in the idea that we can never assume what he's gonna do next.
"Veteran" then transitions into the next song, "Real N-" At first listen, the music just sounds like noise, which is grading and harsh to the ears. However, upon re-listen it becomes addicting. "Real N-" transitions into "Thug Tears," which is a true testament to Peggy's energy and sampling ability. It samples a myriad of media, including a scene from "The Matrix" (1999), in a conversation between Neo and Cypher. The many other samples all come together to make this song a deep listen every time, where you're always discovering new sounds.
My favorite song on the album is "Baby I'm Bleeding." Its beat starts with a chopped up version of "Cool Like Ice Hot Like Fire," which eventually builds up to a huge drop. During the buildup, Peggy uses an obscure, yet hilarious sample to develop hype for the eventual drop. It comes from "Batman vs Superman: Dawn of Justice" (2016), and it is a noise made by Jun Finch while she's at the Capitol. This helps give it that little bit of life it needs to become one of Peggy's most energetic songs to date. "It's ironic you talk jail time, but you ain't never seen no central booking," he says, commenting on how people often say things without meaning them. Like this, a lot of his lyricism is meant to be provocative to almost all viewpoints. He questions other people's insecurities while affirming his own identity.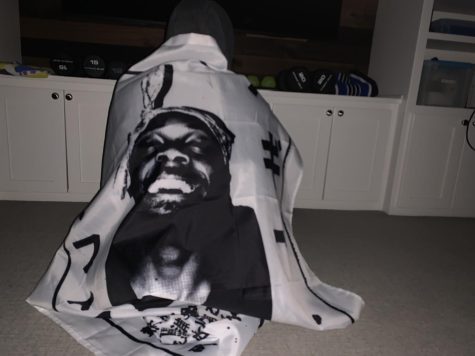 A lot of these ideas are expanded upon in his follow-up project in 2019 titled "All My Heroes Are Cornballs." Overall, this album has a more lo-fi and calm feel to it, but this doesn't stop the opening, "Jesus Forgive Me, I Am a Thot," from being as strong as it is. This is definitely my favorite song of this era because it simply works on so many levels. The whole idea behind this song is Peggy's general distaste for religion, using the word "pray" ironically, as he feels it is an involuntary action. 
Additionally, in an interview on Genius, a website where you can annotate lyrics which has expanded to do things like interviews, Peggy states that he tries to "approach dominant ideas from a submissive perspective," which is shown in the lyric, "I'm a diva, no punk in me." Again, this shows him re-affirming his own identity and confidence. 
On the third track, "Beta Male Strategies," he again provokes people who spend too much time on the internet. "Say what you said on Twitter right now," he says as a response to people who comment on his work online but become non-confrontational when meeting him in real life. Peggy comments on people who take comfort behind their screen without doing anything in the real world.
Another highlight is the low-key, but beautiful, "Free the Frail." The song's production is a lot more stripped back, but this helps the ghostly vocal delivery shine. The lyric "Don't rely on the strength of my image, hey if it's good, then it's good" sums up a lot of Peggy's ideas. He wants people to think for themselves instead of blindly following others. In addition, he comments on his success stating that if it's good, people will cling into it.
In Peggy's next era of albums, including "EP!," "EP2!," and "LP!," he experiments with even more lo-fi beats, but evens it out with other experimental sounds. The main staple of this era is "LP!," which is my personal favorite Peggy album.
The album starts with the hypnotic intro, "TRUST!," which puts me in a trance with its mysterious synth line and quiet delivery. "DIRTY!" is the next song on the album; in it Peggy vocalizes his opinions about the rap game right now. He says, "Grind my teeth, how they spit so much filler?," commenting on how other rappers often have "filler" lines that don't mean anything.
Skipping forward a bit leads to the song "THOT'S PRAYER!," which begins with him doing a cover of Britney Spears' "Hit Me Baby One More Time." This is not his first time covering female pop songs, as a staple of his live performance is covering "Call Me Maybe" by Carly Rae Jepsen. He has also done a cover of "No Scrubs" by TLC. He performs these covers in a unique way with a decent amount of autotune, but ends up still sounding beautiful.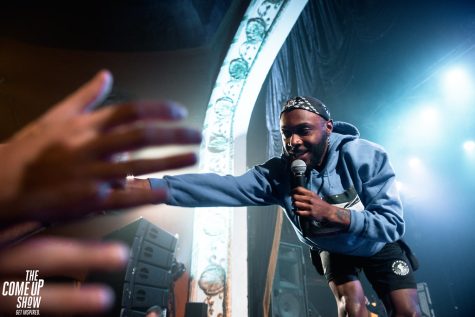 "REBOUND!" is another song from the album, and it happens to be my personal favorite by him. "Why would I pray for your health? Baby, I pray for myself" shows his belief in himself and that he is better off with his own abilities. In addition, his overall attitude on the song is just mean. It's him being himself, and along with the killer beat it meshes to become a memorable track upon every listen.
 Another energetic song from this era is "HAZARD DUTY PAY!," which is a great introduction song for anyone looking to get into JPEGMAFIA. Even if you don't like most of his more experimental cuts, as long as you like rap you'll like this song. The sample at the beginning perfectly transitions into his rapping, and the energy is infectious. The rest of "LP!" is also worth a listen, as it concludes with even more of his signature sound.
Overall, throughout the years JPEGMAFIA has shown that he is always progressing as an artist and always has more to say. If you want someone who is uniquely themself, has great rapping ability, and explores a myriad of influences, then I would highly encourage checking JPEGMAFIA out for yourself.