Basketball 2023, Here We Come!
Hyman Brand Hebrew Academy's (HBHA) winter sports are underway with another exciting season. HBHA welcomed a new coach for the Middle School girls and started a new Junior Varsity (JV) team for the High School boys. With all these new opportunities, we will be pleased to watch how our teams will grow this year.
With our season passing by rapidly, our High School and Middle School teams have been working hard and attending after school practices. HBHA's returning coaches include Damion Brown, the Varsity boys coach, and Perijo Maddox, the Varsity girls coach. The two Middle School coaches include Michael Liss, the Middle School boys coach, and Golan Silverman, the new Middle School girls coach.
Silverman moved to Kansas from San Diego with his wife and two kids. He brings his expertise to HBHA's athletics program after a career as an Israeli basketball player. He says, "[M]y dream was to play for the Los Angeles Lakers." Silverman, unfortunately, had to end his professional career due to a broken disk in his back. 
Silverman has many plans for the Middle School girls' team. He says, "My plan is for this team to compete and learn to trust one another. To watch them grow and continually get better and more confident in their ability individually and as a team."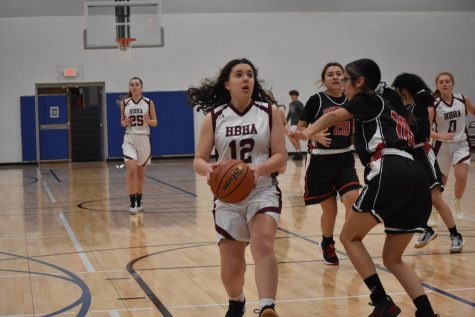 In the future, Silverman's goal is to continue coaching and passing on his knowledge, passion, and love for basketball. "I would love to get to D1 [division one athletics] men['s] or women's (preferably women's) coaching level," Silverman says.
The Varsity girls also have been working hard in practice and in games so far this year. In an interview with Maddox, she says, "I'm enjoying watching the scrappiness and the hustle, and the determination on the court all the time." It will be fun to watch the teamwork through the challenging games coming up around the end of the season.
When Maddox talks about her love for the team captains, seniors Aviva Clauer and Illy Hammer, she says, "The seniors have been very supportive of me and our efforts to teach them [the rest of the team] to play basketball or just run an offense."
The Lady Rams also had the privilege to recruit former HBHA students to play on the team this year, including senior Shira Pellegrino and freshman Charlotte Shafton, both joining us from Blue Valley West.
The girls Varsity team plans to take their skills to Miami for a Jewish basketball tournament on Feb. 22-26, 2023. 
The Varsity boys have also been working hard this season. In an interview with Brown, he says, "I am very happy with the progressions of the team this year because of the amount of work we put in. I see players enjoying working hard."
The boys team also had the opportunity to bring other Jewish teens from the area to play for HBHA. This year they welcomed senior Tate Novorr and freshman Hunter Brown to their team, joining us from Blue Valley West and Blue Valley High School. When asked how Brown felt about bringing in new players, he replied, "[I] love it. I wish we could've done it earlier."
Some of the things Brown has been looking forward to towards the end of the season include, "getting an award… in the conference, but definitely having more players on the actual ballot for all-star awards." Brown also stressed that he is proud of many of his players.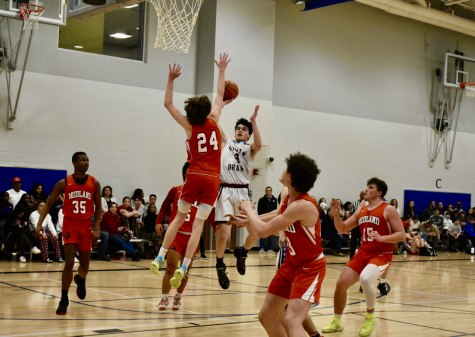 The Varsity boys team has been picked years in the past to attend out-of-state tournaments, but this year it was not possible. 
When asked if Brown wanted to attend an out-of-state tournament in the future, he replied, "That would be amazing. I would love for us to get some more variety because I think that when it comes down to meriting success, we don't get a chance to win a state championship, but to be around the peers of our community around the world, that would be awesome."
"We are planning to do another family Shabbat dinner," Brown says. It has been a recurring tradition in past years for the complete boys basketball team (JV and Varsity) to get together for an annual Shabbat dinner. They are planning to bring this tradition back in the upcoming future. 
The JV boys team is a new addition to the basketball program at HBHA this year. "I love it," Brown says, "I wish they had more games… I would love to have an even amount of games [as the Varsity team] if we could."
The five HBHA basketball teams have been hard at work so far this season. As of Feb. 10, the Varsity girls are 7-7, and the Middle School girls record is 4-3. The Varsity boys are 7-5, and the JV team is 3-2. The Middle School Seventh and Eighth-Grade boys team are 9-1, and the boys Fifth and Sixth-Grade team is 6-1. 
The remainder of this season is looking bright for our Rams. It will be exciting to see how much these teams will accomplish. Go Rams!