Love and Passion: My Journey of Self-Discovery Through Music
When I started getting into music, there were only a few types I enjoyed. I mostly listened to whatever was on the radio or what my dad played, which ended up usually being a rock band from the 70s or 80s like AC/DC or Guns n' Roses. However, the biggest impact on my early music consumption came from a video game called Geometry Dash. It's a rhythm-based platform game where the objective is to traverse a level to complete it. The gameplay is great, but what really stuck out to me was the music. The game gave me an ear for electronic music, helping me develop the first sounds I became emotionally invested in. The music may not have said much, but they each conveyed something fresh.
Additional media that influenced my interpretation of music was the internet. I was into a lot of nerdy online things like Five Nights At Freddy's and Undertale, both small indie games with dedicated fanbases. Wanting to get more out of my experience, I went to seek out fan material. This led me to The Living Tombstone, among others, who is an artist that has made a plethora of music and other media on these games. The way he fused electronic sounds with the subject material gave me a passion for combining online culture with music.

Then, I downloaded Spotify and my music taste started to expand even further. My first playlists mainly consisted of Jack Stauber, Panic! At The Disco (edgy right?), and whatever else I thought was indie/alt music at the time. 
Jack Stauber's yelpy voice and weird nostalgic 60s sounds, coupled with his variety of thought-provoking music videos, gave me a sort of comfort that nothing else could. Panic! At The Disco's expressive performances and creative songwriting on their first album always made me wanna sing along. Looking back, I only had a handful of songs I liked, but it always provides a nice wave of nostalgia every time I go back and re-listen.
Freshman year was a first for a lot of things, but it was when I really started getting into music and especially rap. I discovered artists like Kanye West, Childish Gambino, Tyler, the Creator, and Eminem who left a huge impact on me. Albums like "My Beautiful Dark Twisted Fantasy," "IGOR," and "Awaken, My Love!" were my first introduction to full length masterpieces. It changed my perception on what the concept of an album could be. They blew my mind with the sounds presented and told stories in vulnerable yet intriguing ways. However, these albums were just precursors to what I would later go on to find.
From there, my taste only got weirder and more experimental. Exploring the niche of internet related content and newfound appreciation for expansive music, I ventured on and delved deep into new artists. From the mature emo of Paramore, to the absurd nature of 100 gecs, to the somber sounds of Frank Ocean, I started listening to more and more. Additionally, there was another level to mature to.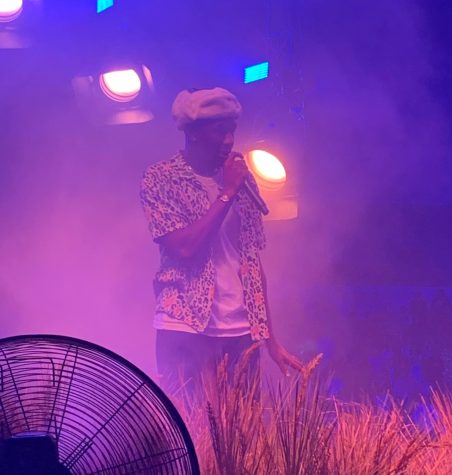 Skipping forward to the start of summer 2021, I was with my friends at a pool when the topic of writing for RampageWired came up. I never had any interest in joining, mainly because I thought it would be a bunch of extra work and stress for a subject I didn't particularly care about, but as I matured as a person, I started forming some of my own opinions, especially in the realm of music. Additionally, I felt like I had no way of voicing these opinions outside of my close friends, so I asked if I could write about them. My friends said yes, but it wasn't until my last article of that year until I was able to start reviewing music. It was hard to keep motivation leading up to the article, but I'm so glad I stuck with RampageWired.
Through my experience writing for the  newspaper, I have been able to share my own opinions on music I'm passionate about. Writing here has given me a new voice, and I can see how much I've grown as a writer. Otherwise, I may not have gotten to voice my opinions on the dreamy sounds of Kate Bush, or the glitchy hard-hitting sound of JPEGMAFIA. 
If there's one main thing I've learned, it is that people will listen to someone who is passionate about their interests. Yes, I complain about this and that from time to time, and constantly analyze music, but I wouldn't do that if I wasn't passionate about it. Love and passion is what writing is all about. The fundamental passion for my hobbies is what has fueled me to make what I have and be where I am today. At the end of the day, I just do this out of love and passion.