Candidate Forum: Future Votes KC Takes on Kansas City, Mo. Council Candidates
On Tuesday, April 4th, 2023, eight candidates running for the Kansas City, Mo. at-large Districts 3, 4, 5, and 6  advanced to the primary election: Brandon Ellington (current incumbent) and Melissa Hazley for District 3, Crispin Rea and Justin M. Short for District 4, Darrell Curls and Michael Kelly for District 5, and Andrea Bough (current incumbent) and Jill Sasse for District 6. 
On March 30, Future Votes KC, a partnership between three Metro-area high schools (Hyman Brand Hebrew Academy, Académie Lafayette, and University Academy) held a candidate forum for at-large candidates.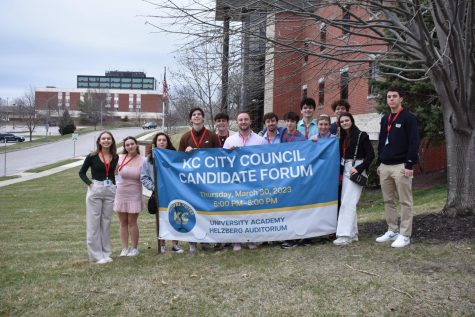 "We [HBHA] created Future Votes KC ten years ago when we started doing Social Justice work," says Todd Clauer, HBHA's high school principal. 
During the preparation year, most students moved between committees. Clauer says, "that [the first group of committees] went for several months, and then we switched and focused specifically on the forum itself, and we had new committees for that and everybody played a role." 
Vivian Nodland, a junior at Académie Lafayette, says that there were multiple committees put together to organize the process of creating the candidate forum. "There was Local Control/Policing in Kansas City, Missouri, so that would just continue the work from the year before. There's Street Names and Monuments, which is my committee. There was Climate Justice and KCMO's Pledge to Climate Action, [and] that was actually work that we continued from two years before. And then there's Media and Communications," she says.
Six selected students joined a new committee, and their role was to ask questions to the candidates. These students worked together to get information on typical issues faced by the average Kansas City citizen.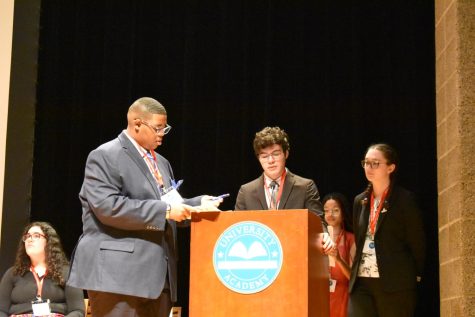 HBHA student, junior Ellie Glickman, said, "My job in the forum was to be one of the moderators. This meant reading one of the opening paragraphs and [introducing] candidates." Both HBHA students, senior Zach Hardy and Glickman both had the role to introduce and start the forum.
The purpose of the forum was to get the candidates' opinions on issues such as global warming, the economy, and more. The running-at-large candidates would sit up on the auditorium stage and answer questions given by the Future Votes KC's six chosen students on any topic, ranging from the official names of streets, to their opinion on economic or residential issues. 
"We helped facilitate all that process so that the students felt like they were learning the things that they wanted to learn relative to being ready for the forum," Clauer says. This forum serves not only as an event to bring awareness to the citizens of Kansas City about their running representatives, but also as a learning experience for our students in the Metro area.