Five Fashion Trends for Fall 2015
Leah Sosland
November 16, 2015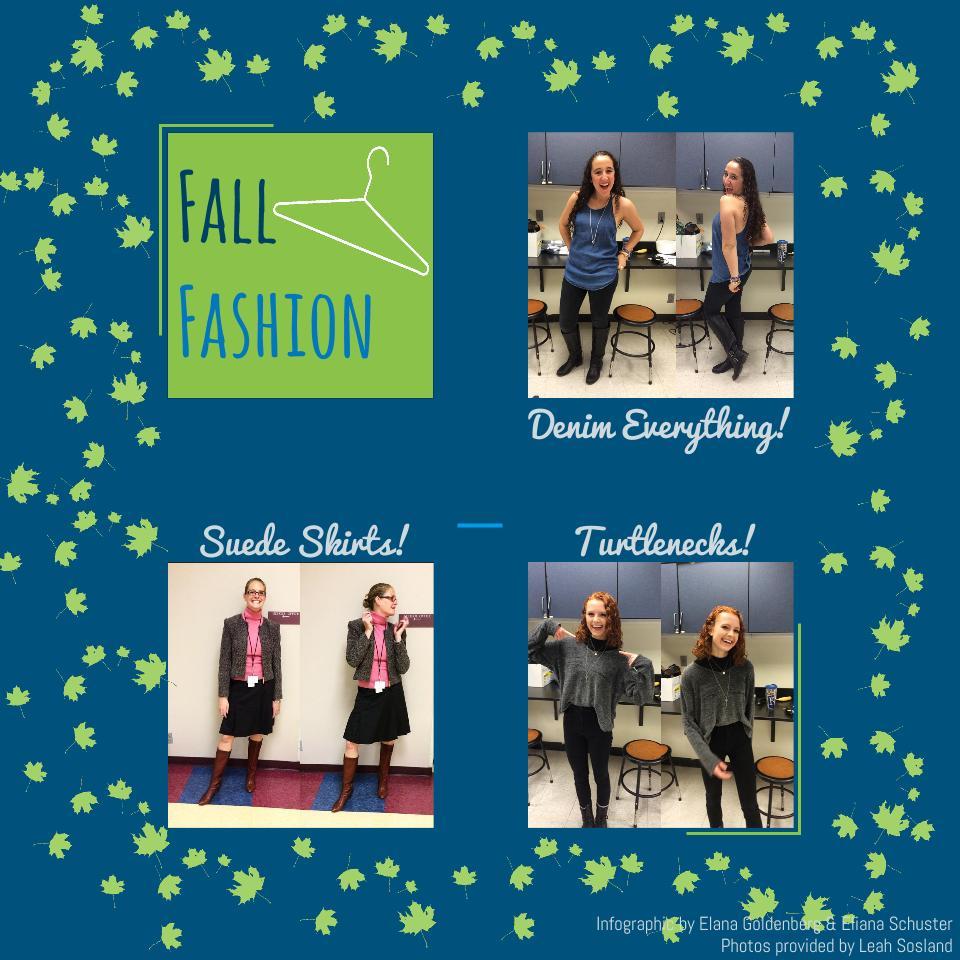 You wake up, ready for a day of runway show hopping at Paris Fashion Week 2015. You wipe the grogginess out of your eyes and jump out of bed. The first thing you do? You walk up to your imaginary closet and sift through a plethora of trendy fall clothing. What would you find in this hypothetical selection of autumn's hottest styles?
Suede

Specifically, the suede skirt. This versatile piece of clothing has a fun, 70's feel. Try belting that suede midi-length (shin-length) light brown skirt and pair it with a navy sweater and a scarf for a cozy feel. Then add ankle boots. Or instead, you could opt for the suede A-line mini skirt and dress it down with a striped tee. If you're feeling bold, you can wear a suede fringed mini skirt doubled up with a suede fringe jacket in a contrasting color (It's fashion week, you can get away with it). If you're in search of a more professional aesthetic, choose a dark suede skirt and mix textures by tucking into it a thin white blouse. Combine that outfit with pointy-toed ballet flats or low heels.

Denim everything

Everyone's favorite. It's easy, it's casual, and it's timeless. Ladies and gents, without ever really going out of style, denim has made a comeback! The big thing right now is the dramatic flare jean. To avoid looking like you're coming back from Woodstock, wear a clean-cut tee tucked in and top it with a sharp black leather jacket. It'll work, I promise. Or if you're looking to take a chance, add a belt and pair those flare jeans with a denim button-down shirt, brown boots, and a floppy hat.

Fun fur

For Fall 2015, the 70's are manifesting themselves everywhere: in suede, denim, and yes, fur. Luckily for all of you animal lovers, faux fur is trending even more than the real thing, so there's no need to go out and buy a coat made out of baby animals. And the fall 2015 faux-furs aren't your boring old furs…they come in pinks, oranges, yellows, stripes, stars, and anything you could think of. Be bold and pair a pink and black striped stole with a simple black dress. Or keep it simple with a taupe faux-fur vest and a pastel a-line dress. Spice it up with a pair of metallic heels. Faux fur isn't limited to clothing; shake up any old outfit with fur accessories. Fur is making an appearance on clutches, shoes, and even backpacks!

Halloween 

Spooky styles aren't limited to trick-or-treating! A simple black dress can turn festive with black tights embellished with dancing skeletons. Or wear light-wash jeans with a black sweater that has elbow patches that look like ghosts! Or if that's a bit too tacky for you, you could just wear pumpkin earrings (but if you're dressing Halloween-themed, tackiness might just be a given).

Turtlenecks

This fall staple may not be the first thing that comes to mind when you think "fashion," but the effortless turtleneck is everywhere this season. Layer it underneath a pin-up dress with boots. Tuck it into high-waisted corduroys and add an edge with platform shoes. If it's cold outside, wear a cozy sweaterdress over your turtleneck with colorful tights and riding boots. Turtlenecks aren't just for piano teachers, everybody!