University Academy students visit HBHA
Natalie Bell
January 3, 2016
On Friday, Nov 20, University Academy students arrived at the Jewish Community Center (JCC) and were greeted by the Hyman Brand Hebrew Academy (HBHA) high school students at around 9:30 a.m. as many students met for the first time. HBHA underclassmen welcomed University Academy's National Honor Society (NHS) members while the upperclassmen greeted their high school student council. The halls of the JCC were quickly filled with excitement.
After the underclassmen and NHS arrived at the JCC gymnasium and split into several groups, they began team building exercises. From elaborate cup stacking to fitting more than 8 people on a small block, these challenging tasks brought HBHA underclassmen and University Academy students closer together.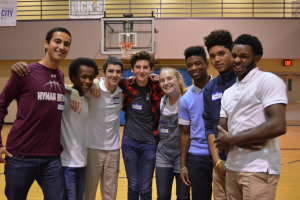 "Our hope is to have students from both schools meet a couple of times before the [Civil Rights Tour] March trip… get to know each other," explains Ms. R. G. Renee, one of the faculty organizers of an upcoming civil rights trip that joins both school. "Then the trip can evolve as an authentic shared experience full of memories to last a lifetime."
UA's student council and HBHA's upperclassmen did different team building exercises, consisting of interesting and difficult challenges.
"The students from both schools were very willing to engage in that team building exercise and to get to know each other," states high school principal Mr. Clauer. Following lunch, the students participated in a meaningful conversation about race and privilege and what part they take in our society. "They really dove into that and they were very willing and respectful and wanting to understand it and that was really meaningful to watch." Clauer says.
University Academy's high school student council and HBHA's juniors and seniors are working together for this year's social justice project, which revolves around the necessity of early childhood education. "Last year was the first year doing it with University Academy, and it went really well" Clauer reports.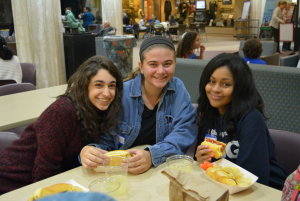 Following a hot dog lunch in the lobby, the HBHA freshmen and sophomores and University Academy's NHS ended their active team-building activities to learn a lesson on civil rights. After singing "Wade In The Water" together, they discussed and wrote down examples of discrimination against both races (Jewish and Black people), along with commonly held stereotypes.
"It was nice… The civil rights lesson in the Beit Midrash helped me realize that segregation against different races are surprisingly similar," reports freshman Alina Bell.
The overall day was a success. From the inter-school bonding exercises to the deep conversations about racism and social justice, HBHA and University Academy continue to educate their students about equality, civil rights, and social justice.