In a nearly unprecedented manner, the Nov. 8 Kansas election for the retention or removal of five justices on the Kansas Supreme Court has stirred up a great deal of controversy. Five judges are up for retention – the other two were retained in 2014 – including Chief Justice Lawton Nuss, Justice Marla Luckert, Justice Dan Biles, Justice Carol Beier, and Justice Caleb Stegall. All of these judges, excluding Stegall, have met with overwhelming opposition. Thus, two sides of a campaign have emerged: one encouraging voters to elect to retain Stegall only and another urging voters to retain all five justices.
The effort to remove the judges falls within three camps:
Kansans for Justice
Public disdain for some of the justices was sparked following the Kansas Supreme Court's 2014 decision to overturn the death sentences of brothers Jonathan and Reginald Carr who, in Dec. 2000, killed five and injured one in a series of random robberies, rapes, kidnappings, and murders. According to the website Kansans for Justice, the families of the victims of these attacks created the non-partisan group in order to "seek justice and completion of the sentencing in this court case, as well as other death penalty cases like it," accusing the justices of failure to "follow their oath to uphold Kansas law." In the 2016 election, Kansans for Justice encourages voters to vote "no" on the retention of Justices Nuss, Luckert, Biles, and Beier.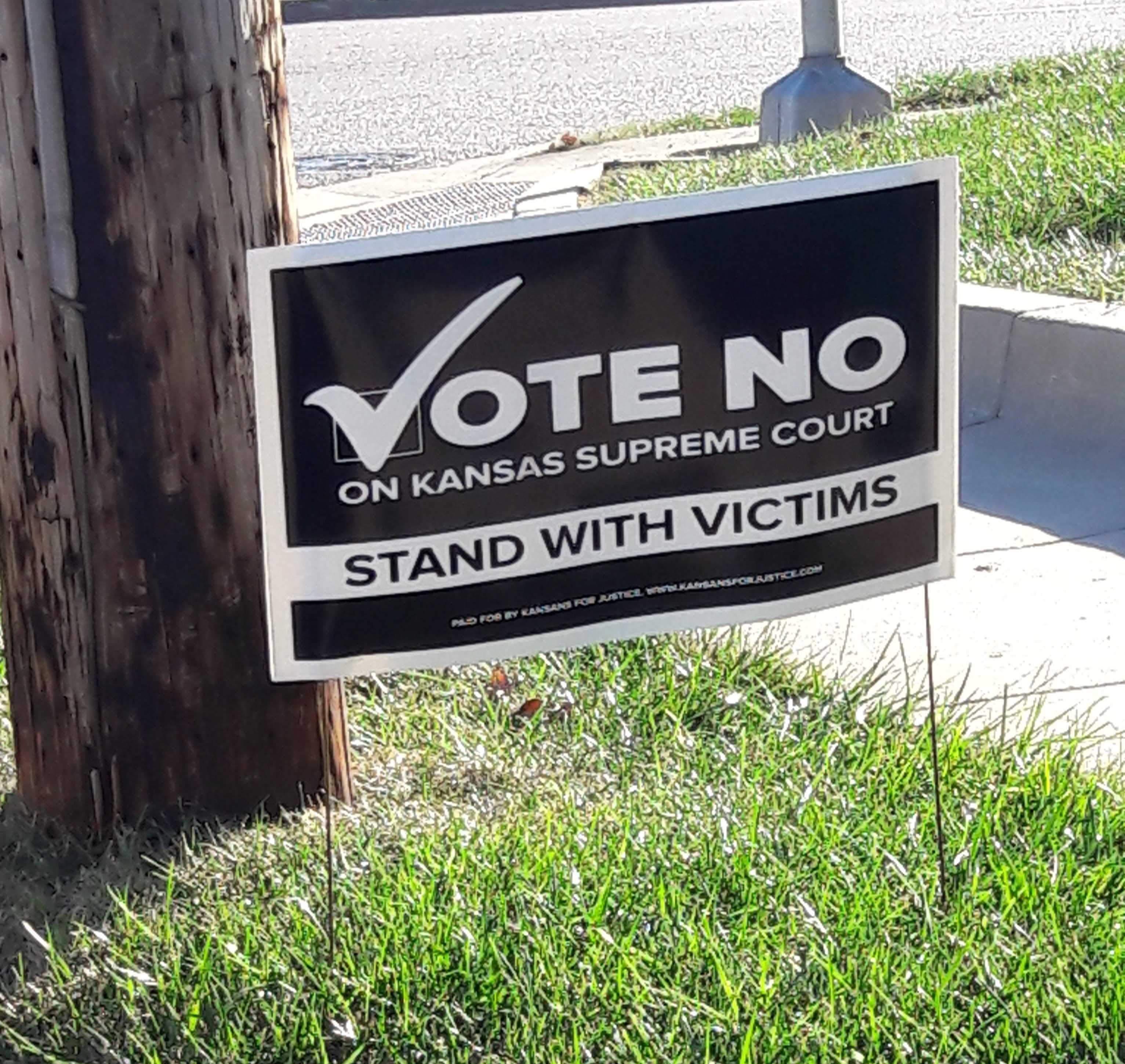 Better Judges for Kansas
Affiliated with Kansans for LIfe, an anti-abortion organization, Better Judges for Kansas encourages voters to "reject all but Stegall." In its voter guide, Better Judges for Kansas accuses the four other judges of "mak[ing] our state less safe, creat[ing] new law not based on our state Constitution, run[ning] counter to long-standing ethical codes of conduct, [and] are frequently overturned by the U.S. Supreme Court."
Gov. Sam Brownback
The Kansas Supreme Court earned Gov. Brownback's disdain by ruling that his tax plans violated the Kansas Constitution, which indicates that schools must receive sufficient funding; in Brownback's plan, schools received far less funding than they needed. Following Brownback's refusal to increase the school funding, the Supreme Court threatened to shut down the schools until they receive the amount of money allotted to them by the constitution.
In the 2014 election, when they were up for retention, Brownback publicly endorsed efforts to remove Justices Eric Rosen and Lee Johnson, who were appointed by Gov. Sebelius, Brownback's Democratic predecessor.
In the 2016 election, Brownback has refused to acknowledge his support of such efforts. The removal of all justices but Stegall, however, would provide Brownback with the opportunity to select new justices from a group of committee-approved nominees, which would likely create a socially and economically conservative-leaning majority on the court, so Brownback presumably hopes for the success of these efforts.
–
Alternatively, nonpartisan group Kansans for Fair Courts encourages voters to keep the Supreme Court "nonpolitical and nonpartisan" by voting for the retention of these judges.
Four of Brownback's gubernatorial predecessors – Democrats John Carlin and Kathleen Sebelius as well as Republicans Mike Hayden and Bill Graves – have joined Kansans for Fair Courts' efforts.
According to their website, Kansas for Fair Courts works to "preserve the system for selecting judges based on their qualifications, character, and ability," and argues that if Brownback manages to appoint a majority on the court, the court's impartiality will be threatened. Affiliated with the Kansas Values Institute, – which backed Democrat Paul Davis' 2014 race against Brownback for governor – Kansans for Fair Courts argues that the system of checks and balances is "under fire" due to Brownback's attempts to "pack the courts with his supporters more loyal to a political ideology than to the constitution and the law." Kansans for Fair Courts is urging voters to vote for the retention of all five justices in the 2016 election.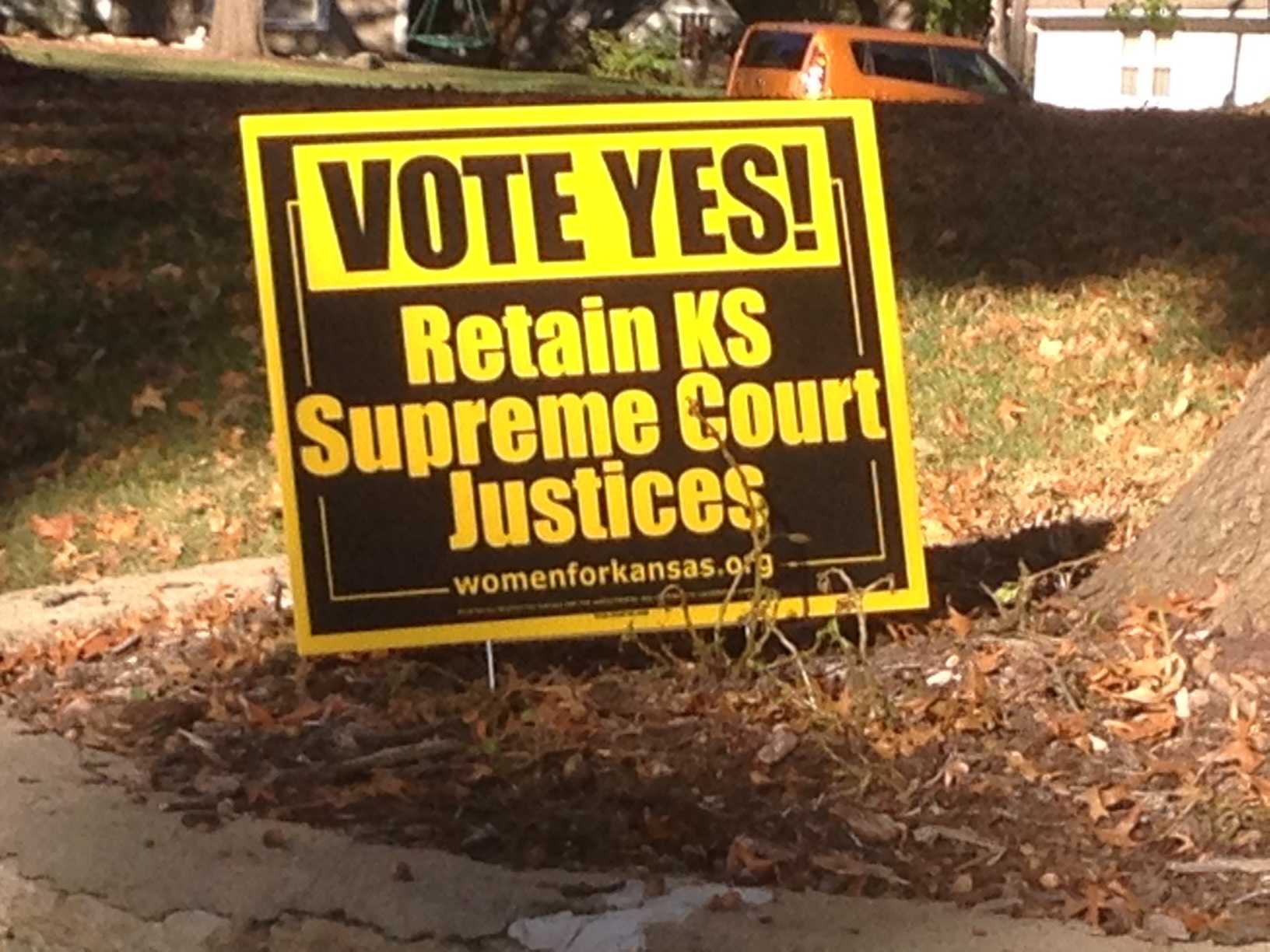 Laura Hewitt, Hyman Brand Hebrew Academy's Director of Testing and Teacher Development, shared her knowledge about the issue:
"There are many conservatives in the state of Kansas who are not happy with many of the decisions that the [Kansas] Supreme Court has made. They believe that they're activist judges and they're not following the constitution… They're trying to get these judges voted off so that they can reappoint ones that the conservatives believe are more to their liking… There's so much contention between the conservatives and the liberals right now in our country, and I think it's unhealthy."
On Nov. 8, the trajectory of Kansas' judicial branch will be determined. Should this result in the removal of the justices, voters will almost certainly witness a great deal of change in the Kansas Supreme Court due to the new justices that Brownback will likely select. Should the justices be retained, however, the court will remain as is until the next retention election, and Kansas' judicial and executive branches are likely to remain in conflict.