Rebecca Glueck: Soccer Star
Lauren Hassan
November 25, 2013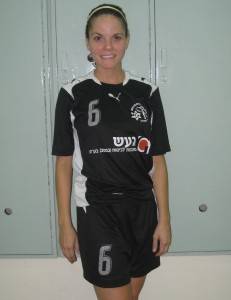 When you meet Rebecca Glueck, you can easily see that she is a cheerful and kind teacher. She has medium length hair that falls down in waves and brown eyes. This new teacher heard about HBHA because she grew up in Kansas City, where she attended elementary school before moving to Phoenix. Glueck also often visited the Jewish Community Center as a child.
Prior to joining HBHA's faculty, she taught English to 1st through 6th graders for four years in Tel Aviv. Later in New York, she taught Hebrew and English in Jewish schools. Afterwards she taught for four months in Cape Town, South Africa.
When asked why she became a teacher, Glueck replied "Because," and she thought for a moment, "I guess teaching found me." She majored in psychology at Arizona State University, but when she was offered a teaching job on campus, she discovered that she truly loved teaching. She then went on to get  her master's degree in education at Tel Aviv University. "I get to hang out with cool people
 all day long and have fun," she smiled. "It's so fun. I get to teach kids and watch their minds grow."
In her free time, Glueck enjoys playing soccer, exercising and doing outdoor activities. She also enjoys painting while listening to classical music, but she could also be just as satisfied with a good fiction book. She loves animals, cooking and movies. In fact, her love of movies is conducive to her expansive knowledge of movie trivia.
At HBHA, Glueck teaches 6th grade English, science, social studies and is also their mentor. She also teaches 7th grade English, is the advisor of the yearbook and coaches soccer. Glueck enjoys teaching English because it comes naturally to her, and she loves teaching children to appreciate literature. Even though she has not been here long, she likes that HBHA is close knit, and she looks forward to watching her students grow.