A Stitch in Reality: How Wanda's Clothing Reveals Her Grief
Image from cheatsheet.com.
Earlier this year, Disney+ released "WandaVision" (2021). Views were automatically taken with the show, loving the sitcom aspects paired with sci-fi and the Marvel Cinematic Universe (MCU). The show centers around Wanda Maximoff, a woman with magical powers, and Vision, a sentient android. In the MCU movie, "Avengers: Infinity War" (2018), Vision dies at Thanos' hand with Wanda watching, helpless to save him. Later, Wanda creates an entirely false reality, called the Hex, in a small town called Westview where Vision is alive. She takes plot points and inspiration from favorite sitcoms throughout the decades while controlling the minds of everyone in the town. In this way, Wanda deals with her grief, but in what other way can the audience see how her grief manifests itself in her world?
Clothing is a wonderful resource to get to know a character. How someone is dressed can show the audience what they are feeling and a bit about their personality. Throughout the MCU, Wanda's color is red, which is the way that her powers show themselves. The first episode, set in the 1950s, has almost no red in the costumes. It's difficult to tell from the episode itself, as it was filmed in greyscale, but the behind-the-scenes special shows that there was only one light pink dress shown. The day dress that Wanda wears is a stereotypical 1950s housewife dress. This is unlike anything else Wanda has worn throughout the MCU. Typically, her outfits consist of sweaters, jeans, and other loose fitting, comfortable clothing.
This is the most removed Wanda is seen throughout the show. She's taken away almost everything that distinguishes her as the powerful Scarlet Witch, arguably the strongest Avenger. Perhaps she feels that if she reinvents herself, nothing bad can happen to Vision again. Wanda keeps her powers, but the audience only sees them used for simple jobs such as putting away the dishes or making dinner like Samantha from the 1960s sitcom "Bewitched." Nothing about her can be recognized as Wanda Maximoff, her clothing being the most jarring bit about this entire world thus far.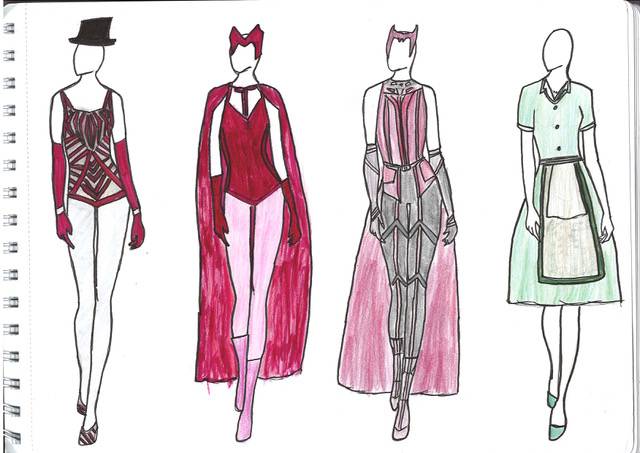 In episode two, the audience sees a glimpse of the real Wanda. There's a talent show being held in the Town Square and Wanda decides to do a magic act with her husband, Vision. Her outfit is a standard magician's assistant sparkly leotard. This episode was filmed in grayscale as well, but in the behind-the-scenes colorized photos, the leotard Wanda is wearing is a bright red. Because of the classic magician suit Vision donns, the general audience may assume that Wanda is wearing black as well.
In episode six, she wears another leotard, this one is her classic comic book costume or the "Sokovian Fortune Teller." The general idea of her magic act costume is to hint at something later on, a deeper plot than just garden parties and magic shows. The only times that Wanda blatantly uses her powers in public are the times in which she is wearing an outfit that either resembles or is her Scarlet Witch costume. This is the first instance of that.
This costume showcases her guilt about Vision dying and her being helpless to stop it. Wanda is worried in this scene, Vision is acting strange, and she doesn't seem to understand what is causing it. She may think that her powers could be fading, or that she is losing control of the situation. She is putting on a front with the sparkly costume and top hat. When someone wears sequins, how could one possibly expect them to be grieving? Wanda is also wearing gloves, showing that she does not want to showcase her powers, similar to Elsa in Disney's "Frozen" (2013). Wanda did not want to show her powers as the warping reality was new to her; it is only the second episode after all. She may have worried that if someone saw her using her power that they could snap out of her enchantment and that everyone else would follow after, destroying the bubble that she had created to grieve Vision. Another thing about this costume is how disarming it appears to be. She's wearing nothing more than a performance outfit. However, this is when she appears to be most confident in herself and her powers: when she is wearing something that resembles the Scarlet Witch costume.
Skipping ahead to episodes five and six, Wanda seems to be stuck in the guilt and bargaining stage. Episode five is filled to the brim with horrible 1980s fashion. The worst of it being Wanda's floral vest, long sleeve turtleneck, and wide beige pants with a ratted up ponytail. It's both tight and loose, showcasing how uncomfortable she is in this stage of her mourning. She appears to be fine on the outside, but at the bottom of her heart, she still can't fully accept it.
In episode six, Wanda dresses up for Halloween with her husband, brother, and children. Wanda is trying her best to make her family perfect. However, everything in her universe is false, as much as she may believe differently. After this episode, Wanda can't put on a costume and pretend that everything is fine. Vision discovers the edges of the Hex, the world that she had created for herself.
In the next two episodes, Wanda is trapped in the depression stage, not caring enough to do anything. The hoodie and sweatpants combo is worn for two episodes, and Wanda sticks with the relaxed style for the rest of the show. It's a deep red, closely resembling some of the colors in the costume she wore in "Avengers: Infinity War." Her hair is thrown back into a ponytail, unlike what she has been doing for the rest of the show. She is grieving him again, but this time, she's more connected to reality. She realizes that the Vision she has with her is not the one she knew. He does not have any memories before Westview, and he does not know their story. Wanda finally starts to come to terms with this fact and with her grief in these episodes.
When Wanda discovers that Agatha Harkness, a witch from the time of the Salem witch trials of the 1690s, was not under her spell the entire time, Agatha takes her on a little trip through Wanda's memories. One of the memories Agatha shows Wanda is Vision comforting her after the loss of her brother, Pietro after the events of "Avengers: Age of Ultron" (2015). She's wearing a sweater and sweatpants, both dark and loose fitting, the exact opposite of what she was wearing when she started to grieve Vision. However, it is also darker and more consuming. Her brother, the only person she had shared all of her traumatic experiences with, was gone. She wears something similar in the finale episode, but they are the lighter alternative to her "Avengers: Age of Ultron" outfit. She is still in mourning, but she has finally reached a point of acceptance and strength rather than a stage of denial and pain.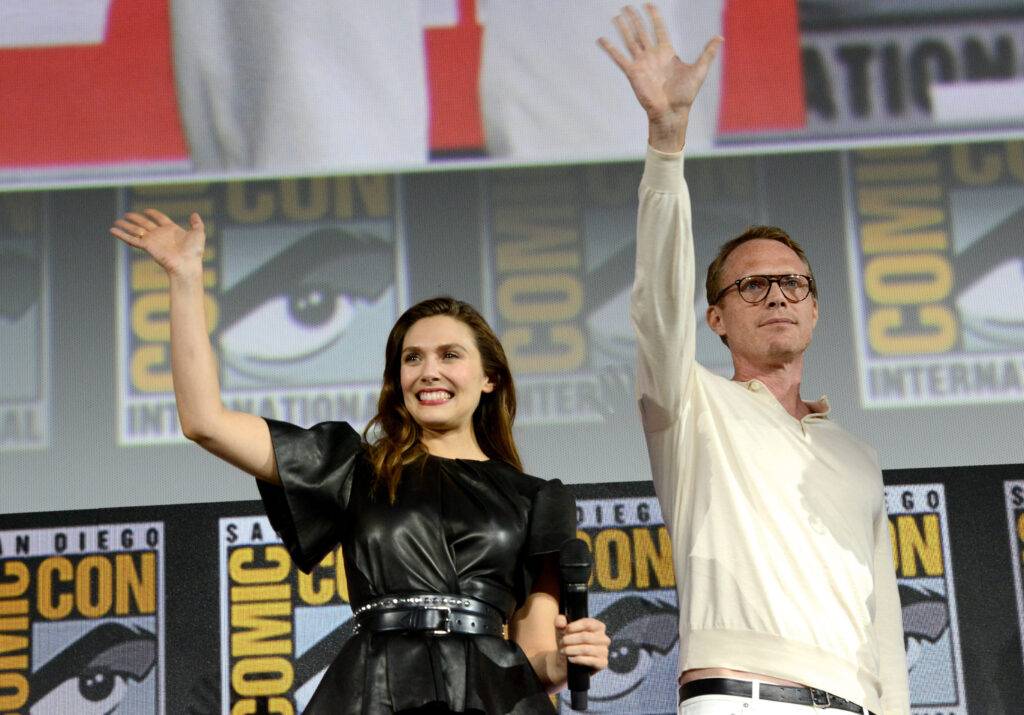 The most famous outfit in the show is revealed in the finale episode, the Scarlet Witch suit. This is a sharp contrast to the first two 'hero' outfits that Wanda wears during the show. It is darker, modern, and grounded in reality and practicality. In an interview with the "WandaVision" director Matt Shakeman at NY Press News, Shakman revealed that Elizabeth Olsen, the actress for Wanda, had input in the final design. She put on the design and started to move around saying, "I can do this move and I can't do this move. And I need to be able to do this move." The designers took that bit of input and re-engineered the costume. According to Shakman, "it's one thing to look amazing, it's another to actually function."
With everything crumbling around her, Wanda has come into her powers through a journey of pain and grief. However, she does not want to forget what she has been through. The deep red is a callback to the darker detailing in the "Avengers: Infinity War" costume, when she lost Vision. The darker red along the sides with the lighter red in the middle is the same shape as her "Avengers: Infinity War" outfit as well. The crown pays homage to her original comic suit as well as the "Sokovian Fortune Teller" from her childhood with Pietro. While she takes bits and pieces of her suit from her past, there's something undeniably new about it. It tells of moving forward, of understanding her grief, of becoming better and stronger. Not just because it is what Vision wants for her, but because it will help her to learn how to grieve.