Image from KMBC.
March 13 2020. A date that will forever be remembered by many across the Hyman Brand Hebrew Academy (HBHA) community. The date that the previous 9th and 10th graders were sent home from their Civil Rights trip, and it was announced that HBּּHA would be taking a "temporary" break from in-person learning. Since that announcement, school life has never been the same. Now, over a year later, hundreds of millions of Americans are receiving the COVID-19 vaccine, and the light at the end of the tunnel is getting brighter by the day. Temperature checks before school have become a thing of the past, as well as separate passing periods by grade. It seems as though HBHA is loosening up its guidelines. As more restrictions continue to lift, it begs the question: When will HBHA go fully back to normal, as it was prior to Mar. 13?
When Head of School, Adam Tilove, was asked if we were at least headed in the right direction to reaching these normal conditions, he started off with a disclaimer, "It would be foolish of me to make real predictions…there could be variations and who knows what." However, it seems to him that "we are on the right track to have a normal, open school year."
Dr. Rachel Sosland, a member of the HBHA COVID-19 Task Force, agrees. She thinks "we are definitely on the right track." She does still show some concern with the forming of new COVID-19 variants, as well as with the longevity of the vaccine. However, the threshold required to go back to school normally has changed throughout the year.
Tilove also stated that he "certainly doesn't think there will be any need for us to do Zoom school next year," and it "seems like a thing of the past." He does however mention that "if there are families that for a personal health reason want to stay home…we would continue to provide Zoom school for them."
Although school will likely stay in-person, some programs may not. For example V.I.P day will likely still have some sort of online component as well as the Civic Service Award (CSA) dinner. This however is not necessarily due to health risks, but so families who live elsewhere can be part of these events. Dr. Sosland says that hopefully next year "activities will all be back" and we can "have more community programs together." She mentions that family programs could take place in-person outside, especially as the upper school students continue to get vaccinated. She also says that other programs like Chag Sedur, Chag Chumash, graduation, high school and middle school plays, etc. will become safer as more people get vaccinated and if the COVID-19 numbers in Kansas continue to decrease.
Lunch in the lobby has served as a way for students of a wide variety of grades to socialize. Although middle school has already begun this in the social hall, it has yet to be implemented for high school students. Dr. Sosland says it would be safe for high students to eat together in the lobby, but she says that it is not the decision of the school or the Task Force, but of the Jewish Community Center (JCC).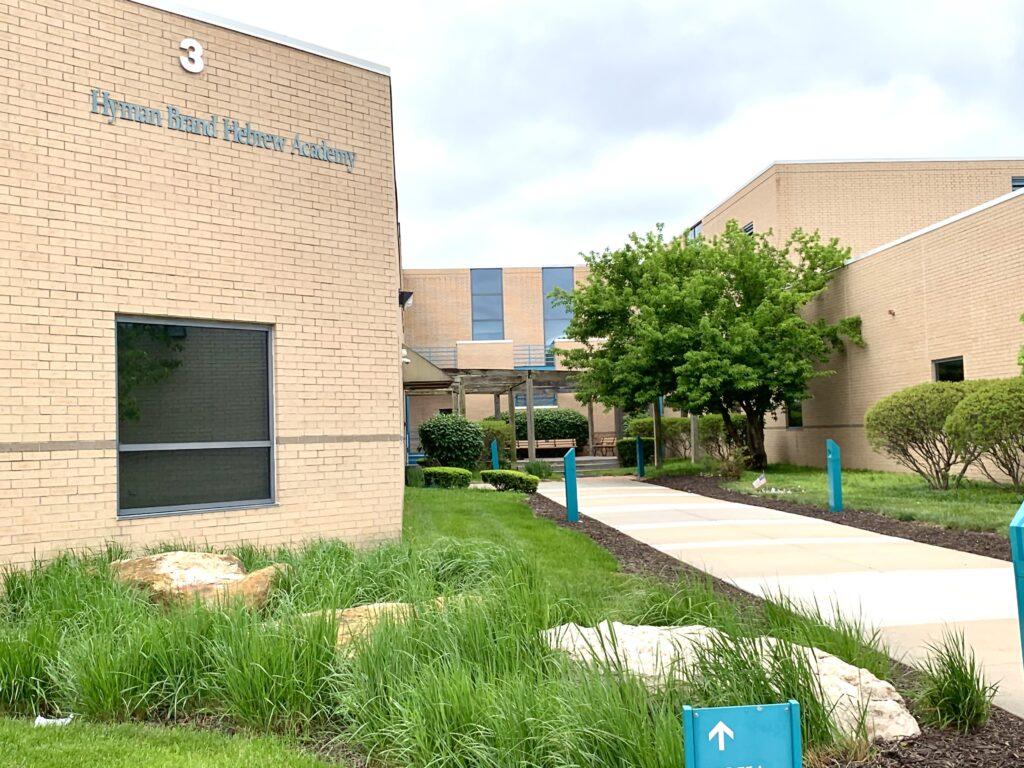 The locker bay is also a great place for socializing. With students from different grades, all in close quarters, with no place to be, easy dialogue is almost inevitable. It also allows students who get to school early to talk to their teachers on a more personal level, and helps foster the community environment at HBHA. When asked about the safety of students congregating in the locker bays, Dr. Sosland says "as more middle and high school students get vaccinated, I think it will be fine."
Sports at HBHA allow students to be a part of a team and teaches them many lessons outside the classroom. Discipline, perseverance, and trust are just a few of the traits that sports instills in students. It also is a great way to show school spirit, and support classmates.
HBHA's Athletics Director, Austin Benton, agrees that we are on the right track to going back to normal from a sports perspective. He states that we are planning on having a full season next year for all sports, and games are already being scheduled. Although he is scheduling the games, he does not have the power to determine the COVID-19 protocols, and these decisions are mainly in the hands of local government officials.
"There are decisions made way above me," he states, "not only in the school, but within the state and the county as well." Outdoor sports, like soccer and cross country, have already relaxed restrictions, with masks only required to and from games and practices. Restrictions on indoor sports, like volleyball or basketball, are more up in the air. Benton says that "everything's getting better," so he "anticipates that if we go forward with volleyball, we won't have as many restrictions." Although HBHA's restrictions are getting looser, Benton says that the local public schools will likely be going "full throttle."
Wiping down desks has been a major addition to HBHA's COVID-19 protocols. Dr. Sosland does say that cleaning desks have proven to be effective and can prevent the spread of COVID-19 as well as other viruses. She does however say that,"by next year, some of the cleaning protocols will definitely be relaxed." In an article by Fortune.com, it is noted that the Centers for Disease Control and Prevention (CDC) director, Dr. Rochelle Walensky, said in a White House COVID-19 Response Team briefing that disinfecting is only a recommendation in schools where there has been a confirmed COVID-19 case within the prior 24 hours.
Finally, the restriction that has the largest impact on school, wearing masks. Without masks being mandatory at school, the environment would be extremely close to pre-Mar. 13. However, this restriction will likely stay for the longest of the COVID-19 restrictions. Dr. Sosland says that the most recent time for masks to no longer be mandatory would be next school year. Her more conservative estimate however, is far later. "It could even be a couple years," she states.
In the upcoming year, you can look for more intermingling between grades, as well as a possible return to family programs. More accommodations are also made for events like the high school play, and graduation. Overall, COVID-19 numbers are on the decline, which directly affects the school's restrictions. Progress is being made, and the future of HBHA from a health perspective is optimistic.