Photos by Lainie Kaseff and Bini Allen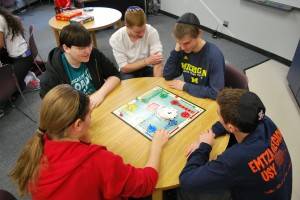 An intense game of monopoly during board games. 
From Jan. 6-10, students at Hyman Brand Hebrew Academy engaged in a unique, albeit unconventional, type of learning that takes place annually. Winterims have just come to a close this year and many hold that this year's winterims were considerably better than in years past. Classes ranged from storytelling and creative writing to baking and a multitude of dance classes. Countless students enjoyed the experience and many seniors were content with their final winterim classes.
Sam Matsil builds a Shtender!
Director of Student Services, Netta Krashin, taught this year's upper and middle school ping-pong classes alongside Upper and Middle School Mathematics and Physical Education teacher, Lisa Ryan. Krashin felt that her students gained much skill this year despite having had only one week. "I saw tremendous progress in ping pong skills from kids who had never held a paddle before," said Krashin. "I thought it was a really nice, relaxed atmosphere where students had the opportunity to play as much as they wanted." The week of ping pong culminated in the middle school championship game between eighth graders, Joe Porter and Molly Kavanaugh. Porter emerged victorious and was named champion.
Forensics dissecting pigs. 
Upper and middle school English and Mathematics teacher, Micah Margolies, also had the opportunity to teach winterim classes this year. He taught board games, middle school improvisation, 3D modeling, and Math Counts (a program designed to help middle school students prepare for the upcoming Math Counts competition.)
Margolies brushed up on his own acting skills to teach middle school improvisation, as he was in the HBHA play all four years of high school and took summer improvisation classes himself. "We always started the day with a warm up game involving silly words and movements," said Margolies. "It helps the kids build a sense of cooperation." Some of these games included "Party Querks" and "Foreign Movie Dub" in which the audience decides much of the scene for the actors so they are forced to be open to ideas that are not necessarily their own.
While many talented teachers had the chance to teach winterims this year, there was also an upsurge in student-led winterims. This year's student-teachers included freshman Lauren Hassan, sophomore Sophia Porter, sophomore Jacob Katz, sophomore Adena Goldberg, sophomore Lainie Kaseff, senior Ben Haney, senior Matthew Kavanaugh, and senior Kara Kahn.
Kavanaugh worked with Haney to teach middle school robotics. "Having both learned and taught in this year's winterims, I found the week all the more productive," said Kavanaugh. "I enjoy the opportunity to learn things not commonly found in a traditional curriculum."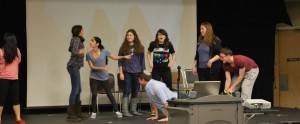 The high school improvisation class is going through airport security during the Winterim Showcase. 
Kahn was conflicted about her final year participating in HBHA winterims."This year, I really enjoyed winterims, but it was bittersweet because I will never have winterims again," said Kahn. "However, it ended on a good note, I did manage to cross some items off my HBHA bucket list by taking Ms. Cahlon's highly-coveted meditation class and teaching my own winterim." Kahn worked with Goldberg and Kaseff to teach this year's upper and middle school zumba dance class.
There were many breakthroughs in this year's winterims curriculum as students branched out to teach things about which they were personally passionate. Middle and upper school Administrative Assistant, Jean Bratt, thought winterims were a clear success. "Winterims went well, all the kids had a great time," said Bratt. "There were many new classes this year; it was a fun week." The HBHA student body is in general agreement with Bratt and hope that next year's winterims can live up to their now heightened expectations.