Photos by Elana Goldenberg 
How much can the Constitution really relate to a modern, Jewish American? HBHA's seventh graders proved, in their United States Government class, that the Constitution can be useful and relatable today. This fall, each of the students was recently assigned to construct a tri-fold poster about a different section of the United States Constitution. This poster consisted of essays, explanations of their piece, pictures, and decorations. In addition, the students discussed how their section of the document was applicable to Judaism.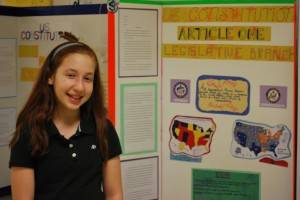 Simi Schreiber next to her project. 
Simi Schreiber, a seventh grade student in civics class, was assigned Article One of the Constitution. This section speaks of the legislative branch, Congress, and the House of Representatives. She stated that the two houses of Congress relate to Judaism because they are similar to Moses and Aaron. These men were leaders of the Jewish people with different jobs and responsibilities, just like the Senate and House of Representatives. Schreiber also elaborated on why the Constitution is important to her. Schreiber said, "it's the reason that this country is so great," and she continued by explaining that if Americans did not follow the laws set out in the Constitution, our country would be "very mixed up." Schreiber added that this was a very fun and enjoyable project.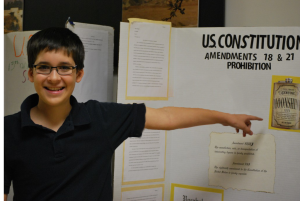 James Mendel enthusiastically shares what he learned about Prohibition. 
James Mendel, another student in the class, was assigned the 18th and 21st Amendments. The 18th Amendment began Prohibition and the 21st Amendment was its repeal. Additionally, the 21st Amendment is the only amendment to repeal another amendment. Mendel was able to connect this to Judaism by pointing out that Jews used to need a special pass to get alcohol for Shabbat. He also commented that his particular part of the Constitution, while it may not necessarily help Americans today, was influential in the past. The government may have interfered with alcohol consumption to "improve worker's efficiency and bring families back together," commented Mendel.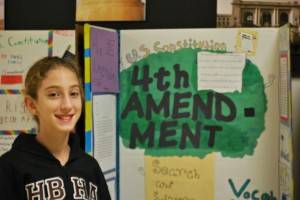 Natalie Bell next to her project on the 4th Amendment. 
The 4th  Amendment was assigned to Natalie Bell. This piece expresses that a police officer needs a search warrant to look through any person's home. Bell said that this was a very important amendment for two reasons. First, if a police officer does not have a warrant, he is technically stealing from someone's home. Second, in the past, there were many convictions done under false pretenses. Later, convicts who had been executed were found to be innocent, causing unnecessary deaths. Bell said that this should not happen today and people must be protected. She also added that she "likes to use the amendment in [her] own way" and was "really proud of her project."
This assignment encouraged seventh graders to think about a very critical document in America's history. Even more difficult, they were told to relate it to Judaism. While some students may have struggled in forming their own ideas, the teacher of the class, Ms. R. Gina Renee, was very happy. She commented that "[her] students rose to the occasion when they presented…their knowledge of the Constitution was impressive," and that she "was incredibly proud of them". Before thinking of the Constitution as outdated and unrelatable, think again and recognize that it can be influential in our American and Jewish lives.