Sixth Grade Fiesta
Adena Goldberg
January 30, 2014
Photo by Adena Goldberg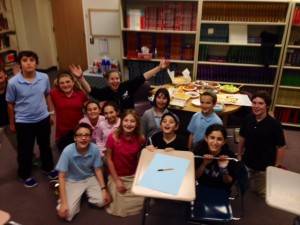 Sixth grade students celebrated their Mexico unit with an in-class fiesta
On Nov. 11, 2013, the Hyman Brand Hebrew Academy (HBHA)'s sixth grade class  had a fiesta! Upon completing their unit on Mexico the sixth grade social studies class enjoyed a fiesta to celebrate their success in the unit. This is an integral  part of their social studies class which focuses on world cultures, traditions, geography, and even history.
Teacher Rebecca Glueck was so impressed with the work of the students.  "They [the sixth grade] had been working so hard on all of their final projects, and as an overall grade they have all been doing really well in the class," remarked Glueck. The students were thrilled with their reward and thankful for their party.
"It was so much fun!," said sixth grader Gavi Glickman. "I loved eating chips and salsa, talking about the cultural ideas and ways. I really love how we didn't have a final project, the party was so much fun!"
Glueck thought the experience was well deserved, and she "was so proud of them, that they needed a celebration, but I still wanted it to be educational." The party was a great reward and encouraged the students to further their understanding of their unit.
"We cooked and ate traditional food, played cultural games as well as trivia on the unit," continued Glueck. "I also played Mexican music."  The food consisted of chips and salsa; the students also participated in activities such as discussions of what they had learned and trivia games.
Ethan Herman, another sixth grade student, discussed the games played. "Ms. Glueck would ask us questions [of] our two teams, and whoever had the most at the end won!"
Herman also continuously remarked on how much food and dessert they got! "I loved how we were able to talk with our friends over the new things we learned," exclaimed Herman. "The fiesta allowed them to apply their newly learned material to life. I learned so much about Mexico! Like, they speak more than one language there and that their president has more power than ours!"
When asked if Glueck would continue the celebration and reward, she said "absolutely, if they continue to work in class with the same effort!"