Spirit Week at HBHA
Sam Sosland
February 13, 2014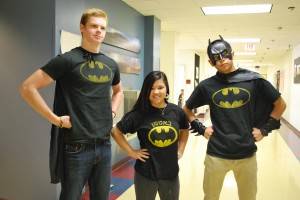 Photo by Kara Kahn. Max Sosland (left), Leah Cohon, and Bini Allen all dressed as Batman for superhero day.
Spirit week was in full swing at HBHA starting on Tuesday, Jan. 21 as upper school student council helped to raise excitement for upcoming home games for the varsity basketball teams. During spirit week, students dress up for different themed days to help boost school spirit. Some were upset that spirit week conflicts with many preplanned programs, while others were just excited to have spirit week for the first time this year. The different themes this week were pajama day, superhero day, nerd day, and Disney day.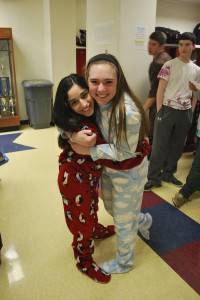 Photo by Bini Allen. Shani Solomon (left) and Kara Kahn wore Footsie pajamas on pajama day.
Sophomore Zach Kreisler had been looking forward to spirit week all year. "Pajama day is my favorite theme this year," Kreisler said. "[Spirit week] boosts morale because people just get to chill and relax during the week. It probably gets people more excited than usual for games."
Leah Cohon, a senior at HBHA, was also excited for spirit week, but she was a bit worried about the week chosen for the program. "Spirit week is great because you can dress however you want as long as it is related to the theme," Cohon said. "I don't  like how a four day week was chosen for spirit week. We also have field-trips that make the week shorter. It would have been better next week, but I'm still glad to have it."
There certainly were some good costumes this year.  Siblings Max and Leah Sosland both dressed up as Batman for Superhero Day, and sophomore Hannah Pinson was a fantastic Minnie Mouse for Disney Day. No pajama day is complete without a group of kids dressed in Footsie pajamas, which is essentially a one piece pajama suit.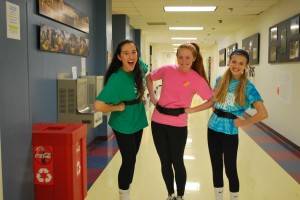 Photo by Kara Kahn. Adena Goldberg (left), Gabi Cabell, and Lainie Kaseff dressed up as the Powerpuff Girls.
Students were not the only people excited for spirit week. Teachers enjoyed this wacky week as well! Dr. Levy, History and Psychology teacher at HBHA, loved spirit week. "Usually I would say [my favorite spirit day is] superhero day," said Levy. "But this year I will say Disney day, because I have all the songs in my head from winterims."
        This was certainly a good week to be at HBHA.