HBHA Purim: Full of Fun
Lauren Hassan
March 16, 2014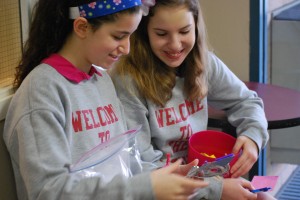 Purim at HBHA is a time of laughter and happiness. It is an opportunity for students to put on costumes and sing joyous songs at school. On Friday, Mar. 14 the school gathered to hear the Megillah read as the story of Purim was brought to life in the annual chant. Students listened carefully for "you know who's" name and prepared their noise-makers. Hamentashen were given to HBHA students, who munched on these triangular pastries filled with jelly, chocolate, and poppy seeds throughout the half-day.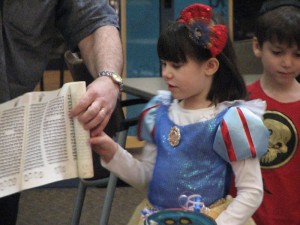 This year an event called Cirque de Purim was organized by two PTO volunteers: Andrea Levitan and Karen Gerson. Levitan shared how they came up with the idea. "Our understanding of Adar is [that] it is a festive month. We met with Zohar [Flacks]… One of the activities Zohar fondly remembers is having hot chocolate at school and having music playing in the classroom. So we took her ideas, created some of our own and that is how 'Happy Happy It's Adar' came to be."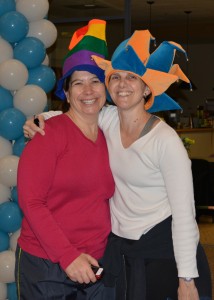 Sixth grader Lily Marchick recalled her favorite part of Purim at HBHA, "I loved the Purim carnival and the mishloach manot because they're like dreidel grams, but for Purim."
Lower schoolers spent their merry day visiting the Purim carnival. For weeks in advance, preparations were made by the high school students, while the lower schoolers only saw closed doors and streamers. Behind the Social Hall doors, fun was being made. When the doors opened on the holiday, there was much to be found. From face paint to obstacle courses and from bowling to the haunted house, there are many fun-filled activities at the yearly HBHA Purim carnival.
While lower schoolers ran from game to game, middle school students were away for the day. For the first half of their trip, students carolled through the halls of Village Shalom while seniors peeked out from behind their doors and woke from naps to hear the voices of the middle schoolers. The second half of the middle school Purim trip varies from year to year. This year, they went to Skate City, but other years, they have visited a bowling alley, No matter where they go, fun is assured.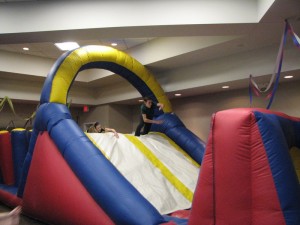 High schoolers spent Purim running the Purim carnival. They set up games and decorated. Freshman Ariel Brudoley looked forward to helping with the carnival this year. "Purim at HBHA is the best! We get the responsibility of directing our own program so the munchkins will have a pleasant time. This alone is the greatest and most enjoyable time for the underclassmen to unite and execute." Brudoley was rather enthusiastic about the opportunity to help with the carnival this year. "If we didn't celebrate Purim, then where would the little children receive all of their happiness from? Where would they waste all of their stocked up, radioactive energy?" This year the carnival theme was the Olympics, and all hands were on deck. Everyone who could help was helping, and HBHA high schoolers made this another great carnival for the lower schoolers.