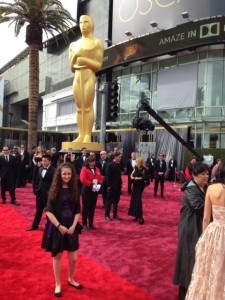 The Academy Awards, the Oscars, the biggest night in Hollywood is always a night to remember. What made the 86th Academy Awards so special this year? Hyman Brand Hebrew Academy 8th grader, Eliana Schuster, attended this year's show.
Eliana's uncle, Michael Lawson, is a member of The Academy of Motion Picture Arts and Sciences. Each year, Lawson watches and then votes on the nominee he believes is deserving of the award, and as a member, he then attends the award ceremony. For her Bat Mitzvah gift, Eliana not only got to go visit her uncle in Los Angeles, but she attended the awards with him.
The night began with a limo ride to the famous Dolby (previously known as Kodak) Theater, where she walked the red carpet. "I spent about forty five minutes just hanging out on the red carpet and watching everyone who walked by", said Schuster. Since Lawson is a member of the Academy, she got to meet many others who voted on the outcomes of the night.
Eliana herself had not had the opportunity to see many of the films up for the awards. She had, however, seen an HBHA favorite, "Frozen," and was "super excited when 'Frozen' and 'Let it Go' won awards!". The show in her words was "AWESOME" and so much better than watching from home.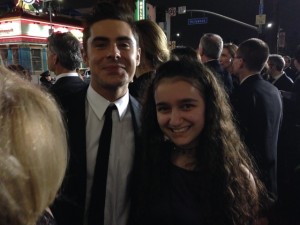 Eliana ended the night with an amazing experience, but also with some bragging rights. While on the red carpet, she walked past celebrities like Amy Adams, Portia de Rossi, and Jessica Biel. Not only this, Schuster met Zac Efron!  Eliana thought the red carpet experience was "crazy," and she said "[it was] really strange to think about how many celebrities had/were/would be in the same room as me!" The whole night was a dream come true, and she laughed every second Ellen Degeneres was on stage! "It was really cool to see Ellen host the whole show and hear so many talented celebrities speak when accepting and presenting awards! It was such a great experience that I know I will never forget!" concluded Schuster.