Guest Student Teacher Thrives in Fourth Grade Classroom
Moriah Abrams
April 29, 2014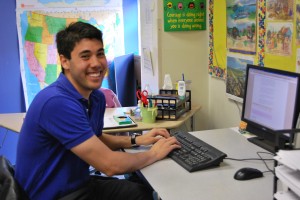 There is a new face in the lower school faculty at the Hyman Brand Hebrew Academy. Alexander Horwitz is a student teacher in the fourth grade classroom. Horwitz has been placed at HBHA for sixteen weeks as a part of earning his Masters in Elementary Education.
Horwitz graduated from the University of Kansas with a BA in Psychology. He is currently enrolled in the Masters of Elementary Education program at Rockhurst University through which he is completing his sixteen week student teaching placement at HBHA.
As a student teacher, Horwitz has an increasingly active role in the everyday school life of the fourth grade students. For the first two weeks at HBHA, Horwitz observed the classroom and school in order to become familiar with the expectations. Over the last few weeks Horwitz has slowly taken more responsibility and began teaching math to the fourth graders. He then started to teach language arts as well and has become the lead teacher of the fourth grade. Both Fourth Grade Secular Studies Teacher Jenny Safir and Fourth Grade Classroom Aide Adrianne Applebaum act as teacher assistants as Horwitz leads the class. Horwitz mentioned, "Mrs. Applebaum and Mrs. Safir have been a tremendous help in guiding the students and offering tips and tricks to maintain a healthy classroom environment."
Safir has been delighted to work with Horwitz. "The fourth graders love Mr. Horwitz! He cares about the students and has devoted himself to being the best teacher he can be.  Mr. Horwitz has been a terrific addition to the HBHA family, and I've greatly enjoyed working with him" said Safir.
Horwitz has taken on the role as a regular classroom teacher at HBHA. He creates lesson plans, grades papers and teaches the entire day. As a supervisor at recess, Horwitz enjoys playing or referees the students' games, especially basketball.
Horwitz is certainly enjoying his time at HBHA. "I could not have asked for a better placement," said Horwitz. "My experience here has been nothing short of perfect. Not only do I give the highest praises to my cooperating teachers and other staff members, but I feel like I am continually learning everyday, building amazing relationships with my students and immersing myself in the HBHA culture."
When asked about his goals for his future teaching career, Horwitz replied, "I want to become a better educator everyday. My number one goal is to be able to instruct, mentor and guide children in the best way possible. I would like to become one of the leaders in the [teaching] field and contribute back to the education community".
HBHA is lucky to have Horwitz teaching at the school for a few weeks and wish him luck in his future teaching career.