HBHA's Annual Civic Award Dinner Honors Irene Bettinger
Adena Goldberg
May 8, 2014
Photos by David Riffle
On Sunday, April 6, students, faculty, and supporters of Hyman Brand Hebrew Academy attended the Civic Award Dinner to celebrate the school and everything it does for the Kansas City community. The evening was held at the Overland Park Convention Center and began with a cocktail hour which showcased many pieces of student artwork. A silent auction was also held at the same time, where the annual "naming the circle drive" prize was auctioned off.  Throughout the opening hour of cocktails, senior Ricardo Zepeda played the oboe and sophomore Lindsey Paul displayed her musical talents on the piano, which smoothly eased everyone into the evening. Guests then entered the ballroom where they ate a delicious meal before the program started.
Lindsey Paul has played for the cocktail hour before. "This is my second year playing for the dinner. It's always an honor to represent my school, and dressing up is always fun," said Paul.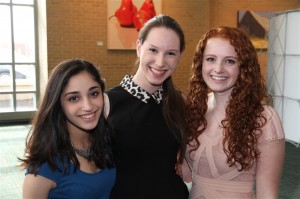 The evening began with remarks by Head of School, Howard Haas. He introduced the graduating class of 2014 and the evening's honorees Julye Hodes Rose and Irene Bettinger, honored for their commitment and loyalty to HBHA. Bettinger's devotion to education is what made her a perfect honoree for the school. Bettinger herself says that "You must come out for your school education with more than facts", the values and the education learned at HBHA does exactly this. Finally, the night ended with comedian Joel Chasnoff, bringing out all qualities and flaws of any Jewish community in the funniest way possible.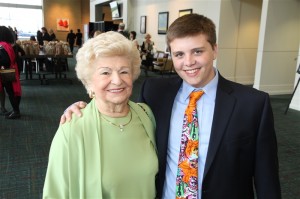 Director of Development at Hyman Brand, Kerry Cosner, explained the purpose and goal of this and every year's dinner.  "Although our main goal for each Dinner Celebration is to raise funds for HBHA, we also strive for a timely evening packed with meaningful awards, a delicious kosher dinner and wonderful entertainment. We want our guests not only to leave happy and smiling, but to have a better understanding of the strength HBHA brings to our community and our families by providing an excellent education in a nurturing environment," said Cosner.
Cosner, along with several committee members planned the event that allowed them to reach their financial goal, which will go to scholarship funds for students.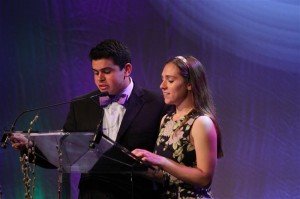 Jonathan Edelman, alumnus of HBHA, has attended the dinner for many years, "I was really glad I was able to come back for the dinner this year. Irene Bettinger has done so much for our HBHA community and the larger Kansas City community. Her honor is so well deserved," said Edelman.
Gayla Brockman, Executive Director of the Menorah Legacy Foundation, thought the evening was lovely. "The evening flowed beautifully, it was very well-organized, and it allowed us time to connect with friends and colleagues. The video was adorable and really showed the great students and environment of HBHA," said Brockman.
Cosner added that "we [the committee and administration] are already thinking about our celebration in 2015." The success of Hyman Brand will continue to be celebrated.