Lehitraot, Class of 2014
Elana Goldenberg
May 12, 2014
"Shalom, chaverim. Shalom." These words, taken from the ever popular Israeli folk song of the same name, mean "goodbye, my friends. Goodbye." Similarly, Hyman Brand Hebrew Academy will soon be saying goodbye to 15 of its students. On Monday, May 12, the class of 2014 will be graduating. Although bittersweet, HBHA graduation is always a highly anticipated event. Every seat in The White Theater is taken as family and friends of the seniors gather to celebrate the end of these HBHA journeys. From viewing slideshows of baby photos to hearing the seniors reflect upon their time at the school, this unique ceremony is certainly not one to miss.
Marla Brockman, parent of two alumni and current HBHA sophomore Adena Goldberg, has been attending graduation for over 30 years and appreciates how, "meaningful and personal" the ceremony is. She adds, "I love our traditions, especially announcing the graduate by his/her Hebrew name and tying that name to what we celebrate in each graduate."
Before officially leaving HBHA, the senior class is "sent off" by the rest of the school. This occurs during the week before the ceremony itself. Senior Send-Off begins with underclassmen giving farewell speeches to seniors with whom they had a close relationship. The younger students often share memories they had with the seniors, whether they are from sports, classes taken together, or just from being siblings.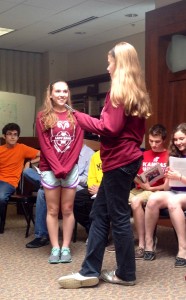 Freshman Leah Sosland is very close with her brothers, Max and Sam, but giving these speeches takes away some of the pain of them graduating. "It was pretty difficult to sum up my feelings in one letter, but overall, writing it really helped seal-off the year in a meaningful way" said Sosland.
Following the conclusion of the farewell speeches, the entire school lines up against the walls of the lower school hallway. Students stand with their HBHA school families as they listen to Upper School Principal Todd Clauer announce where the graduating seniors will be continuing their education in the fall. As the seniors run down the hallway one final time, they hand out high-fives to nearly every student in the school. Senior Kara Kahn is indeed looking forward to this special ritual to finish off her time at HBHA. "It seems surreal that my 13 year HBHA career is coming to an end," says Kahn, "but I could not be more excited!"
Saying goodbye to the class of 2014 won't be easy to do, but the HBHA community cannot wait to see what these young adults accomplish next.