Marine Biology Class Goes to Omaha
Zach Kreisler
May 15, 2014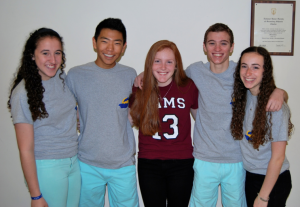 On Friday, April 25, 2014 Mr. Welton's Marine Biology Class visited the Omaha Zoo and Aquarium, in Omaha, Neb. They woke up at 5 a.m. to make the 3 hour journey to Omaha. The Marine Biology class visited both the Omaha Zoo and Aquarium because in their class they are learning about how to keep animals in a tank, as well as marine life.
Senior Bini Allen said, "This was a wonderful opportunity to get a real world experience."
Senior Jacob Pellegrino enjoyed the New Orleans Exhibit. Pellegrino said, "I liked being able to experience the feeding of the animals and the behind the scenes tour." Before they visited the zoo they visited Omaha's fantastic aquarium . The class got an exclusive behind the scenes tour of the aquarium where they learned the mechanics behind the aquatic feeding process. They also learned how things generally run in the zoo.
Allen continued, "It was nice that they didn't have large sea animals. A big thing we learn about is how large marine animals need lots of space and the Omaha Zoo accommodates for most of their animals." The class enjoyed the unique opportunity to go and experience what they were learning about in person and they would love to do it again!