HBHA Seniors Attend Final Conventions
Co-written by Kara Kahn and Jacob Pellegrino
The arrival of the spring season brings the end of many things. The end of the school year, the end of sports seasons, and the end for many youth groups' programming. This past April both United Synagogue Youth (USY) and B'nai B'rith Youth Organization (BBYO) had their last regional conventions of the year, Spring Kallah and Spring Regional Convention, respectively.
From April 11th through April 13th, Spring Kallah was held in Ogden, Iowa at the Sunstream Retreat Center. Spring Regional Convention (SRC) took place in Kansas City, Kan. at the Holiday Inn from April third through the sixth. Both of the these conventions were the last of four regional conventions held throughout the year.
SRC and Spring Kallah are unique compared to other conventions because their main focus, besides programming and socializing for Jewish teens, is honoring the seniors and welcoming new regional board members.
For both BBYO and USY seniors, spring conventions are their last. Although it is not an easy time, it proves to be bittersweet as much of the programming is aimed at reminiscing on experiences from the past four years. There are also programs throughout the conventions that are special to seniors only. At Spring Kallah, seniors had their own program where they were given delicious snacks and had time to hang out together in lieu of a bonfire due to the weather. At SRC, seniors also had their own program in which they got to order pizza and spend time together. It is also a tradition at the last BBYO convention of the year for each senior to speak in front of everyone about their lives in BBYO. This is an emotional and touching time for the entire convention.
Both Spring Kallah and SRC mark the beginning of the terms for the new regional and council board members, and the end for the previous board. At Spring Kallah, regional elections take place the first day of the convention. Once everybody arrives, the members of USY head straight into candidates forum. The Candidates forum consists of each candidate answering two questions pertaining to their desired position, allowing them one minute to think and thirty seconds to answer. After candidates forum and a short break, the candidates start their speeches in which they state their desires for the future of the region. After the candidates for each position have been heard, the members of USY proceed with a vote.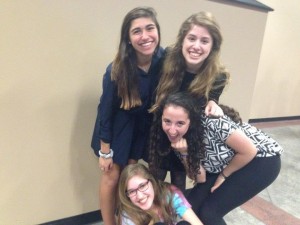 Sophomore Adena Goldberg attended Spring Kallah this year. She said, "Elections were very intense this year because there was a change in the rules. It is great to see my very close friends that are incoming juniors as high leaders in our community." This year was the first year in nine years that HBHA did not have a representative on board. However, Kansas City USY (KCUSY) is still being represented by Jacob Flekier, a former HBHA student and current junior at Blue Valley North high school, Overland Park, Kan. Flekier won the position of Membership/Kadima Vice President.
For BBYO, elections are not held at conventions, but each council holds their own election. Both BBYO and USY have important traditions involving the council and regional boards at SRC and Spring Kallah. During the last night of SRC, the old council board installs the new board members and the new board de-stalls (un-installs) the old members. HBHA junior Joel Gutovitz was installed at SRC as Kansas City Council President. "I am incredibly excited to serve as Kansas City Council Gadol (president)," said Gutovitz, "Seeing the impact that I could have on other teens in my region was a really cool experience and I can't wait to do more of the same next year." At Spring Kallah, this same tradition is done with the old and new regional board on the last morning of convention.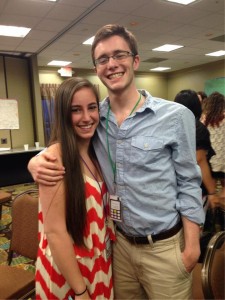 Although these two youth groups are different, their final conventions of the year are both emotional and exciting times. The Kansas City Council BBYO year officially ends on May 22nd with a council wide Kosher barbecue. KCUSY ends its year on June 1st with their annual Chapter Membership Training Lock-in.