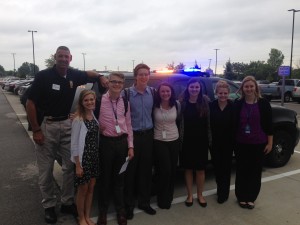 Blue Valley's Center for Advanced Professional Studies (CAPS) is an award-winning program. Its mission is to provide students in grades 11 and 12 living in the Blue Valley School District with the opportunity to further explore professions in which they may be interested. The courses offered vary from veterinary medicine to filmmaking, with everything in between. Using a problem-based method, teachers work to expose their students to professional skills that are necessary to learn in their particular field. This year, six Hyman Brand Hebrew Academy students are participating in the CAPS program.
Todd Clauer, HBHA's high school principal, is thrilled about the CAPS program. He thinks that the program is "a great opportunity for HBHA students in their last two years of high school." Sometimes, students can even participate in CAPS their sophomore year.
Cody Welton, chair of the science department, has a lot to say about CAPS. "I think it's a really beneficial program, and my hope is that the availability of CAPS encourages kids to stay here through high school," Welton shares, "Because I think that being able to come here and get involved in what's going on here and also being able to benefit from CAPS is the best of both worlds." However, as Welton points out, CAPS is not for everyone:  "We've had students from here who opted not to take CAPS and have been very successful."  When asked if he foresees any challenges with CAPS, Welton replied that "the biggest challenge is for students who want to participate but cannot because they don't live in the Blue Valley school district. Right now it kind of is what it is."
Senior Moriah Abrams participated in a CAPS global business course for the first semester of her junior year, but she did not continue on with the program. She is glad she had the experience and believes that she now has a better idea of what she wants to study in college. However, she shared that she "wasn't thrilled about having to come to school late and not being able to participate in certain HBHA electives."
Junior Adena Goldberg sees more disadvantages to HBHA students participating in CAPS than advantages. "I feel like the fact that students who participate in CAPS get out of electives, tefillot, and family programs make it unfair for those of us who are staying and contributing to the school environment. It doesn't seem right that CAPS participants get out of these various requirements, and end up coming late to classes and having to interrupt. Having missing high school students has made it more challenging for the publications/yearbook elective and school families had to be switched around to accommodate the missing students." observed Goldberg.
Nonetheless, participants in CAPS this year are already loving it. Junior Gabi Cabell is in her second month at CAPS and is taking a global business course. She exclaimed, "I love how much our teachers care about what they're teaching, but at the same time know when to take a step back and let us be independent." Cabell is excited about the real world knowledge the program has already given her, and can not wait to learn more over the course of this semester. When asked if she would do CAPS again next semester, she responded right away: "of course–and senior year, too!".