A Summer I'll Never Forget
Adena Goldberg
September 22, 2014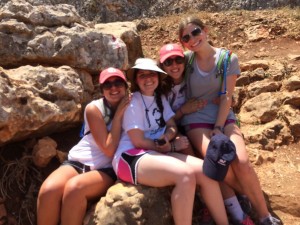 Israel has always been an important topic to me. Like many religiously- and politically-oriented Jews, I consider Israel my homeland and deeply care about what is going on there. However, this summer, my perspective on this has intensified.
This summer I went on Italy/Israel United Synagogue Youth (USY) with seventeen other American teenagers. It was an amazing and unbelievably eye opening experience. Prior to leaving for my trip, my sister, Elana Goldberg, went to Israel to staff a Birthright trip (young adult free ten day tour) just as the three young boys were kidnapped and murdered. During her stay in Israel, and during the first week of my trip in Italy, a teenaged Palestinian boy was also killed. These events precipitated this summer's mission: a full-on war.
My group finished our week in Italy on 8 Jul., and we waited in the Rome airport to finally travel to Israel. During all of this, parents, friends, and staff frantically texted us to see if our flight was still going to happen, as Israel had just been hit by a deluge of rockets. As frightened teens, we were worried about getting on the plane,  however we did so and landed in Israel early in the morning on Wednesday, 9 Jul..
From the point when we landed in Israel, although a bit frightened, I admit I had never felt more connected and happy to be part of of this country. Thankfully, my group was not one that had to go into the bomb shelters. We completed everything that was originally part of our travel agenda, except for our day in Tel-Aviv.
Everyone at home continues to ask me: "Did you feel safe?" or "I can't believe you were there." Many were asking my parents: "How could you send your child there?"
Well, it's simple. Israel truly is our home, and if you say you believe in this, you really have to believe it. For many years this was something that I said just to simply say it, because I felt it was right. Now my whole outlook has changed. You don't know Israel till you feel the unity that comes from tragedy. Each and every time an Israeli spoke or encountered our group they continually thanked us for being there, and more importantly, they thanked us for staying there and showing people back home that we were safe.
The unity we felt attending a funeral for a 20 year-old soldier, Amit Yeori, at Har Herzl National Cemetery in Jerusalem with hundreds of other Israelis who, like us, didn't personally know the him, but also paid their respects made my friends and me a part of the community and the country.
On that same day, prior to attending the funeral, we went to the Herzl Museum to learn about Theodore Herzl's (famous Zionist known for helping the development to the state) dream of establishing the Jewish State, and how he pursued that dream. The pride that comes through the interactive museum led us to the cemetery where we attended the funeral and heard the El Maleh (funeral prayer to ascend soul to heaven). Everyone stood and listened in silence. This young soldier fought for the land we all call home, the land that Herzl dreamt of, and I was able to experience this sense of unity and these moments the entire summer. The young soldier was the same age as my brother. To know that he could be someone else's brother, just my age, made me feel like a real Israeli, as we all have that connection; we all hurt together.
Now, as my sister Elana is there all year, I am proud of her and jealous that she gets that much time in Israel. I don't worry about the country because the IDF (Israeli Defense Forces) will proudly defend it, but so too will every Israeli, together. I worry and hope that everyone who hasn't been and experienced this feeling of pride will go as soon as possible! This experience changed me and my opinion of Israel, and I hope Israel continues to be strong and this impactful for every Jew.
!עם ישראל חי