The Fun of the Run- First Rams Fun Run A Success
Lauren Hassan
October 13, 2014
On September 19th, 2014, Hyman Brand Hebrew Academy's Parent Teacher Organization (PTO) inaugurated a new all-school tradition: The Rams Fun Run. Miriam Kaseff, the co-chairwoman of the PTO, states, "Our goals were not only to raise some money for the school but to focus on health and movement with some team building built-in at the same time." Students and in grades K-12 grouped into teams by HBHA Shabbat Families. The Rams Fun Run included several obstacle course contests and races around the school soccer field.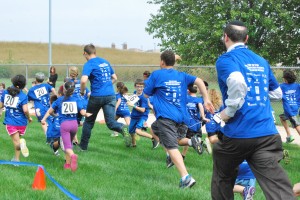 Students collected money from sponsors at home for the event and received prizes for contributing. The smallest prize was a Fun Run bracelet while the largest prizes were gift cards. Other sponsors of the occasion included Kurt Kavanaugh Orthodontics, Camp Sabra, and Walgreens.
Kaseff was pleasantly surprised by the contributions and participation. "This event showed the most participation in any school fundraiser in years with 72% of the whole school population and 65% of the Upper School participating. We were very excited to see this. Every penny goes back to the school…  We raised over $12,000."
Not only was the fundraiser a success, but it was also enjoyable. Freshman Gabrielle Abrams had fun participating, "The Fun Run was such a great time to be with younger members of my family and a great time to work together as a team."
Middle and high school teacher, Rebecca Glueck, also enjoyed the experience, "It was great to see the families working together running, laughing, and participating for a good cause."
Besides a short, triumphant dash between balloon arches, the relay activities of the Fun Run varied. One activity involved hopping with a dodge ball between one's knees. Next, the egg-and-spoon race brought out each families' competitive spirit.   The two finalist families raced to "mummify" the eldest members of their groups with rolls of hastily wrapped toilet paper. Afterwards, healthy snacks were provided for the participants and members of the  PTO sold HBHA spiritwear. The HBHA Fun Run was an exciting and active experience, there was laughter and smiles everywhere, and it seems quite likely that HBHA will try it again next year.