Proud to be a Royal
Elana Goldenberg
October 13, 2014
It is my first Royals game. The year is 2004. I am five years old, wearing a light blue dress, and struggling just to make it to our seats. I'm not watching the game too closely. I don't care that we lose; we almost always do. I am really just there for the cotton candy, anyway.
Fast forward ten years. I've kept up with the Royals, and now I'm more literate when it comes to sports. When I watch the games, I actually believe we can win. When I talk about the Royals, I have a sense of pride. When I'm at sleepaway camp, I can confidently announce in front of everyone (about 1% of whom are Royals fans) that my team is one of the hottest  in baseball. This year's regular season record, 89-73, is the seventh best in the Major Leagues. Baseball fans everywhere are cheering for our guys.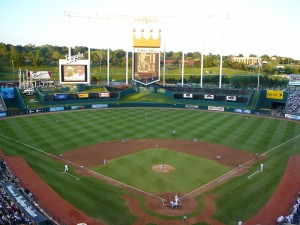 But here's the best part: we're in the playoffs. We haven't played in the postseason since 1985, the last time we won the World Series. Is that a sign? Could this be our year?
After a few months, this hype still feels pretty surreal. I've lived my whole life watching a mediocre baseball team and cheering for them because that's all I ever knew. Sure, I always loved it when we won, but winning wasn't always a guarantee. The season I saw this year (and even last year) was totally different. I actually looked forward to watching the Royals when I could, especially as it got closer to the postseason.
Seeing the Royals play in the postseason is absolutely amazing. It's also different, but in a good way. In my opinion (even though I might get shunned for it), watching these guys play into October is much more exciting than watching the Jayhawks play into March. It's probably because KU is expected to do well every single year. But the Royals? I didn't expect this. Most people probably didn't. Everyone always hopes for a great season, but nobody knows if it will actually happen. That's what the games are for.
The vast majority of fans have seen the Royals in the World Series before, but it was 29 years ago. Most of the current players hadn't even been born in 1985. I certainly wasn't born before 1985, but I'm just as proud of the Royals as anyone more than twice my age. We all want success for the Royals, and after so many disappointing years, we deserve it.
The World Series is closer than we think. We swept the Angels in the American League Division Series. We haven't yet lost a game against the Orioles in American League Championship Series. Will we see another sweep once the rain clears? The next step is the World Series. Will we make it? Can we win everything? Right now, I don't have the answers. I sure hope we win the World Series, let alone play in them. Let's Go, Royals!
In the end, whether or not we take the title doesn't really matter that much. It's amazing enough that we have a good team. So if our season does come to an end prematurely, I'll still be proud to be a Royals fan.
Then again, I really want to see us win that World Series.
Go Royals!