Smiling on Sukkot
Adena Goldberg
October 24, 2014
Sukkot, one of the three Jewish pilgrimage festivals, is many times overlooked because of its proximity to the High-Holidays. Sukkot's fun and unique traditions are why many HBHA families look forward to days off. These days are spent dwelling outside, being with family, and emulating our ancestors in the Sinai Desert. Many high school students, however, are overwhelmed with the absence of a "normal" school schedule, and, what to do without school!
Senior Moriah Abrams is stressed, but she still loves Sukkot. Abrams said, "I love not having school, and being with my family and friends. But it's hard to get back into the swing of things on the days we do go to class." Sukkot's joyous times can bring out a sense of worry as well.
Lower school students seem to more fully enjoy Sukkot. For Kindergarten student Ayla Williams, Sukkot was a time for joy, and fun! "I got to have dinner with Norah (Norah Pabst, fellow Kindergartener), play at Village Shalom, and decorate cupcakes at shul!" she exclaimed.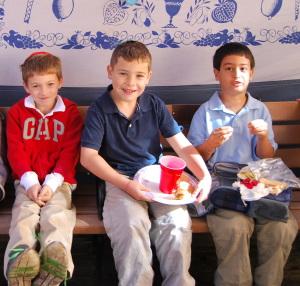 There is a Minhag (Jewish tradition) to begin to assemble the Sukkah right after the conclusion of the fast (of Yom Kippur) to begin the new year and redeem oneself with a mitzvah. With the many days off, HBHA juniors and seniors had to assemble the school Sukkah prior to Yom Kippur. G-d's "Clouds of Glory" was the Israelites' Sukkah, while ours HBHA Sukkah is made of poles and a tarp with many elementary school students' art pinned on the wall. Although the Sukkah was built a bit early, the sense of readiness gave HBHA parents such as Marla Brockman pride in knowing that, "these students felt so positively about 5775, they started their mitzvot even before Yom Kippur!"
Sukkot is the perfect opportunity to spend time with friends. Junior Zach Kriesler, "loved building the Sukkah" with his classmates during mentoring. Each year the upperclassman build the sukkah and Kriesler "enjoy[s] setting the Sukkah up for the school and the students."  This celebration and building is a great way for HBHA students to begin the holiday. This happens even during the few days students get to spend at school.
Although teachers, parents, and students get a bit disoriented with the days off and classes missed, we realize that Sukkot is actually a very joyous holiday. We are commanded to relax and be happy in each others presence, and enjoy the days off.