HBHA is ready to go with CCO!
Leah Sosland
November 3, 2014
One of Hyman Brand Hebrew Academy's primary values is the idea of tikkun olam, or improving the world in which we live. Last year, HBHA's high school began its partnership with a local organization called Communities Creating Opportunity (CCO). CCO is a faith-based organization whose core mission is to bring people of all faiths together in order to improve the quality of life in their Kansas City communities. Through leadership and advocacy skills training, CCO gives local volunteers the tools they need to make a difference in their community.
Kathryn Evans, CCO's community organizer, has been working closely with HBHA for the last fourteen months. She often comes to HBHA during mentoring sessions and talks to the high schoolers, helping them prepare for their future endeavors with CCO. Last year the HBHA high school students participated in a year-long service project which involved door-to-door canvassing in low-income neighborhoods east of Troost Avenue in Kansas City, MO. The goal was to inform residents of these neighborhoods of whether they qualified for aid in obtaining health care coverage before the Affordable Care Act's deadline. HBHA knocked on approximately 900 doors in three large neighborhoods, which led to many families gaining health care coverage.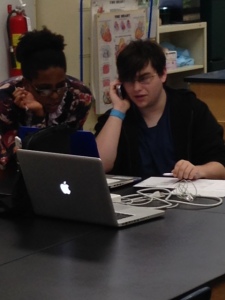 Sophomore Lauren Hassan shared her experience canvassing last year. "It wasn't always easy," she remembers, "and some people would just shut the door in our faces. But sometimes, people would show genuine interest in getting health care for their families. Those moments made the whole experience worthwhile."
This year, the high school will be working to empower the same communities to have a say in the decisions shaping their lives. With the midterm elections coming up tomorrow, November 4th, it is as important as ever to have people from these under-represented neighborhoods showing up at the polls. HBHA students will be calling families and encouraging them to influence policy by voting for officials that will represent their community's best interests.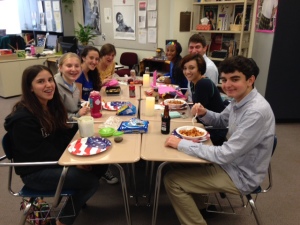 Evans says that this year's project will, "encourage people who don't regularly vote in midterm years to vote. They will have the power to influence decisions made in their communities because they have demonstrated that they care by voting." According to Evans, there are many valuable skills that the students will learn through this experience. "I think the students will develop skills in building relationships with people who are different than them. Hopefully, they will also learn skills in organizing a town hall." This could be exciting for the HBHA upper schoolers, because they would be inviting local candidates to a town meeting so that the community members' concerns can be addressed.
Students are already feeling the excitement that this new tikkun olam project will bring and are eager to begin making a difference in their communities.