HBHA on Election Day: Social Justice with C.C.O. Partner
Lauren Hassan
November 21, 2014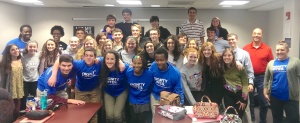 On Tuesday, 4 Nov., the office of Communities Creating Opportunities (CCO) in downtown Kansas City, Mo., was bustling with excitement and focus. Hyman Brand Hebrew Academy's entire upper school  sat facing eachother at long office tables with calling scripts and cell phones in hand. A chatter of anticipation and enthusiasm filled the room as HBHA staff, students, and parents called registered voters to remind them to get out and vote, encouraging them to exercise their constitutional right.
Did HBHA succeed in its mission? Sophomore Leah Sosland certainly thinks so. "I'd say that we improved the world, even if it was just a little." Sosland said. "Even if not every person we called voted, I'm sure we at least brightened their day because they got a call from a real person who cared about their democratic rights. That's what really matters."
A month before the election, in October, HBHA high schoolers devoted several hours calling on Kansas City residents to rise to the occasion and pledge to be Dignity Voters, citizens who promise to vote for issues that support family and community dignity. The first calling experience was more intimate, since the objective was to listen to the concerns that voters had about their community. Students were thankful to have the opportunity to make people aware that their opinion mattered and participate as a group in active social justice work.
"It was great to be able to help people become aware of the influence they can have on what happens in their community and realize that their voices can be heard," Junior Jacob Katz reflected on the experience.
On Election Day, HBHA high schoolers returned to the phones, calling more than 900 potential voters. Additionally, the seniors, accompanied by HBHA staff and parents, spent the morning driving voters to the polls.
"I loved it so much. It was so fulfilling to see the difference I was making," Senior Anna Kaseff shared. "I was really happy that I could be the one to take people to the polls because it is more physical knowledge as opposed to phone banking which was fulfilling in a different manner," said Kaseff.
This mitzvah received the attention of the media. KCTV5 News, a local news station in Kansas City covered the story, interview senior Moriah Abrams.
To see KCTV5's report on the social justice project:
http://www.kctv5.com/story/27274740/group-helps-get-voters-to-the-polls
For additional information about the November election and results in Kansas: