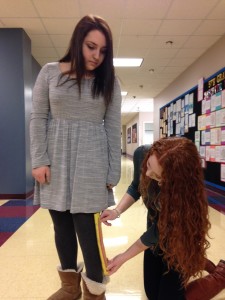 As a high school student, I can remember my middle and lower school days clearly, when I was faced with no difficult decisions when it came to getting dressed in the morning because my middle school prescribed a basic uniform. Choice of polo color was just about the extent of my dressing freedoms and perhaps whether I would wear khaki or navy blue pants. Everything was easy, and the dress code could not have been more clear.
On my first day of high school, I was finally able to choose exactly what I wanted to wear. I remember carefully planning it out the night before–I laid out my summery white top, a printed brown and blue skirt, and a pair of sandals. That very first day of school, I was given a warning that my skirt was too short. This irked me a bit, as the skirt was no shorter than most skirts that I (and most other high school girls) wore, and I remember thinking that I genuinely did look like a "well-groomed and appropriately dressed student," in keeping with the requirements of the Upper School Dress Code. Anyhow…I opted for my capri pants the next day.
HBHA's Upper School Dress Code is a subject debated fairly often at school. Whether a girl is lamenting over being written up for her dress that "isn't that short!" or a boy is complaining about being told to change out of a tee shirt when it is really just "a nice, solid colored shirt," high schoolers love to give the dress code grief. Discussions between faculty and students about dress code began last year when there was a debate over what was considered to be jeans versus what could be classified as colored pants. However, these discussions were short-lived and did not cover nearly all the murky areas in the code.
Earlier this year, I, along with one other girl from each grade, was chosen in order to have a real two-sided conversation with a few teachers and administrators about the dress code. There was a consensus among teachers and students that having a dress code is necessary in order to keep with tzniyut, modesty in dress and behavior. It was unanimously agreed upon that tzniyut is an integral part of Judaism and our school. From there, however, we found that it is pretty difficult to set boundaries for what is and is not modest. We know that girls are all built differently and that a skirt that is appropriate for one girl may look inappropriately short on the next. However, setting a skirt length at 2 inches above the knee seems a bit trivial. What's in a few inches? Turning the dress code into a meaningless collection of nit-picky rules feels counterintuitive, and neither faculty nor students seems to want that. I left that conversation feeling like our thoughts and concerns were truly being listened to, and having a newfound appreciation for the existence of a dress code–but also eager to see some of its kinks get worked out.
A few weeks ago, all the girls in high school met to discuss the same thing. We went through the dress code (written in 2003) and tried to begin improving on some of its ideas. The conversation was a bit more chaotic and we got off topic more often, but the same ideas were stressed. We should all come to school looking like an outward manifestation of what and who we want to be. Self-awareness is also so important–we should know our bodies and what does and doesn't appear to be modest on us. In addition, we should dress appropriately for whatever we will be doing that day. Maybe if I am going to have little kids sitting on my lap during Taste of Shabbat, I can skip the skirt on Fridays. Or if my skirt is on the shorter side, I can put on a pair of tights.
What it comes down to is the fact that no matter what, not everyone is going to be 100% satisfied with the dress code–and that's okay. I may find the dress code to be irritating from time to time, but it is a part of what makes HBHA the place it is. As long as people feel comfortable in what they wear and are modest in the way they present themselves, the dress code will act only as a reminder of what we already know.