9th and 10th Graders Begin Pen Pal Program with Israeli Students
Kayla Goldenberg
February 20, 2015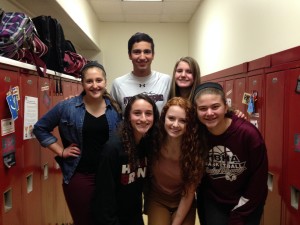 Hyman Brand Hebrew Academy Hebrew Academy strives to educate its students about Israel. In addition to the traditional classroom-based Israel education programs, the freshmen and sophomores at HBHA are taking a different approach this year. They plan to initiate a pen pal program with Israeli students their age.
Director of Jewish Life at HBHA, Zohar Flacks, contacted a school in Wichita that used to run a program through an organization called GALILA, which connects Israel to Kansas. GALILA put Flacks into contact with Pnina Kahana, who runs the Israeli aspect of this project, through a school called Amirim. Amirim school is a community centered Junior and High school. According to Kahana, there are 400 students at Amirim which is located in Kfar Vradim in the Western Galilee in the north of Israel. Like Hyman Brand Hebrew Academy, the students at Amirim are enrolled in general studies classes. However, they do not take Jewish studies courses and their core language is Hebrew.
In this pen-pal program, the freshman and sophomore classes at HBHA will be completing projects with a group of tenth graders from Kahana's English class. The program so far has included Skype sessions, video-clips of student introductions, and discussions about various topics including conflicts regarding identity, minorities, and ethics. So far, the students have completed two assignments for this project. They chatted via Skype with the Israeli students and focused on discussing Jewish identity.
After prayers Dec.9, 2014, HBHA freshmen and sophomores rushed to experience their first meeting with the Israeli students. While the day was only beginning in Kansas City, it was already late afternoon in Israel. Sophomore grader Lauren Hassan told Rampage that "having the opportunity to communicate with Israeli students was a very enlightening experience," she continued, "even though we go to a Jewish day school, we rarely get the chance to interact with the people in Israel."
Regarding the focus on discovering their identity, each student was expected to have a different experience. Every student from either school drafted a paragraph about their identity influenced by a famous quote. Teachers provided lists of several quotes and information about their authors. After choosing their quote, students related the quote to their own lives and identities. One of the quotes provided was written by British playwright Oscar Wilde: "Most people are other people. Their thoughts are someone else's opinions, their lives a mimicry, their passions a quotation."
Each student will have access to a private Facebook called Documail, specifically for this project. They will be able to post on each others' walls, comment on the posts, and interact like most pen-pals do, only they will be doing so through social media.
When asked why she decided to introduce this program, Flacks remarked that she wished "to give these kids a connection when they go to Israel." Flacks wants the students to create friendships in an informal way. Along with that, she hopes that this year's sophomores will meet the students from Israel when they travel on the Poland-Prague-Israel trip next year.