Beating the Winter Blues
Julia Paul
February 20, 2015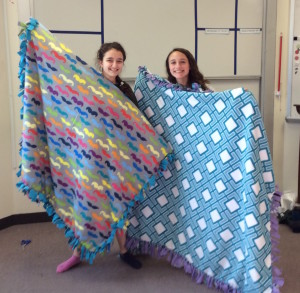 An unbelievable week of Winterims classes at Hyman Brand Hebrew Academy (HBHA) once again marked the beginning of spring semester. From Jan. 5th through 9th, HBHA middle and upper school students participated in a unique type of learning that brought real life experiences into each of their classes. During Winterims week, students got the chance to find a subject that truly interested them while having fun and being with their friends. These unusual and lively classes ranged from karaoke and making tie blankets to playing Super Smash Bros and cooking Israeli foods. A few upper school students even had the chance to teach a subject for which they had a passion. Along with students expressing their creativity, HBHA teachers led many classes that are not part of HBHA's usual academic curriculum.
This year, Director of Student Services Netta Krashin taught a new winterim called, Krashin's Koffee Shop. In this Winterim, students relaxed, drank hot chocolate, and read.
"These high schoolers never have time to D.E.A.R (drop everything and read)," Krashin explains.
Junior Elana Goldenberg says, "Mrs. Krashin's Winterim was by far one of my favorite Winterims in all of my time at HBHA. It was so nice to be able to take an hour to relax and read at the end of the day." Kicking back and relaxing is something students at HBHA wish they had more of during the regular school day; D.E.A.R. was a perfect way to achieve that.
Junior Jacob Katz had the opportunity to teach a brand new Winterim called Smashing Super Bros. In this Winterim, students got the chance to learn new techniques in the video game Super Smash Bros while also having fun with their friends.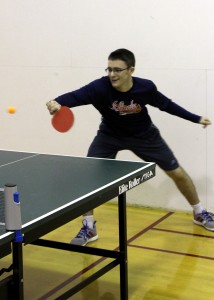 Director of Information Services and Winterims faculty advisor, Richard Borlaza,  claims, "It was really fun to see a large group of students get together and show their true competitiveness." For video game lovers, this class was something they looked forward to every day of the a week.
Freshman Yoni Mehari had a blast in Smashing Super Bros. Mehari states, "It was my favorite Winterim because it was fun playing with all my friends." Katz explains that he would love to do this Winterim again next year if the demand is high.
Karaoke Kraze, an HBHA favorite, taught by HBHA teacher, R. Gina Renee, was an extremely entertaining class this year. Although this Winterim was the first class in the morning, that did not stop students from belting out the lyrics to their favorite songs. Not only was this class a favorite among the students, HBHA teachers Michal Cohen and Laura Severin came to the class and sang a duet of  "Summer Nights" together, from the musical Grease. Students loved seeing their teachers have fun, while singing great songs. The Karaoke Kraze class performed the song "Bohemian Rhapsody" in the Winterims showcase.
Renée found that the "highlight from this class was singing Bohemian Rhapsody and old Disney tunes together." Along with teaching Karaoke Kraze, Renee also taught Intense AP U.S History Movies, and Slam Poetry. The Slam Poetry students created a slam poetry team called "Rams Slam." They are attending the Louder Than a Bomb KC poetry slam competition this March.
Overall, this year's Winterims were a huge success. HBHA seniors were sad, knowing that this was their last year to participate in the beloved Winterims, but many agreed that this year's classes were outstanding. All of the HBHA students and faculty had an amazing, fun-filled week. If only Winterims could be every day! The HBHA student body cannot wait to see what is in store for next year's Winterims.