The Secret of Families
Adena Goldberg
March 23, 2015
"Alright guys, time for shabbos-nucks." Every week, I, as Family #3's eldest member, "fist-bump" my family members to wish them a Shabbat Shalom. The Family Program is unique to Hyman Brand Hebrew Academy (HBHA). There are twenty groups of 8- 12 students each, consisting of approximately one student from each grade, K-12. We simply call this "families." Families gather in the Social Hall every Friday morning for Kabbalat Shabbat and come together throughout the year to celebrate Jewish holidays. Shabbos-nucks have become a Family #3 tradition. Every week, someone in the family initiates this bizarre ritual, but we all look forward to it.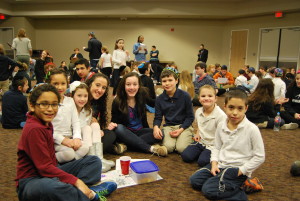 My family experience began in kindergarten and as a member of Family 8. I was the family member who refused to speak. I sat in silence as my family leaders tried as hard as they could to engage me. I specifically remember a "Welcome back to School Program" where we were given M&m's that corresponded to questions about ourselves. I immediately ate all the M&M's so I wouldn't have to talk to the big kids.
My life in Family #8 evolved as I turned into an active participant in family life and eventually into a leader. I was the one working hard to get the younger students to feel comfortable. This was all hunky-dory, until I was "adopted."
At the start of my sophomore year I was switched into Family 3, Tzfat, as they were lacking in older members. At first I was worried; how could I start over? Were the younger students already attached to their older members?
Well here's the secret about families: HBHA is all one big happy family, and while that may sound corny, it couldn't be more true. Even though I was a new member, all students, young and old, welcomed me with open arms. As happy as I was, it got even better. I wasn't forgotten in Family 8; I was still a role model to those younger students.
When walking down the halls, I can give a high five to the fourth grader from Family 8, do a "shabbos-nuck fist bump" to a second grader from Family 3, and even get a hug from a first grader who has never been in my family.
While the "Shabbos-nucks" are saved exclusively for my current family, I have a unique connection to each and every student and member of the HBHA community. At basketball games, I cheer with the third graders, at the Purim Carnival I dance with the first graders, and in my youth group I even get to spend time with the middle school students. We are all connected because of our tradition and community at HBHA.
This may sound silly, and me fist-bumping eight kids before school even starts on Friday mornings may be a bit insignificant, but to me, it means so much. I know the younger kids look up to me and my peers, and the excitement I get from just spending time with them when doing those cheers and giving those high fives is that much greater.
The community that  HBHA and families have created impacts every single student and connects all students to one another.
If you have not yet gotten the chance to come to a Taste of Shabbat on Friday mornings before prayers, or to watch us bring in the month of Adar by dancing around the school, or even attend a Student Council-run lunch, I encourage you to come and see what amazing lessons outside of the classroom, the lessons about our community, we are learning because these are the lessons of our families.